"1 used tire sensor that has been checked with the ATEQ VT30 service tool. Sensor is in good, working condition that comes complete with a FREE new Service Kit. (Kit includes- Metal Ring, Rubber gasket-seal, Hex Nut, Valve Stem Core and Valve Stem Cap). Service kit will need to be installed on to sensor & sensor will need to be relearned/programmed to your vehicle by a tire shop. Some sensors may have grease stains as well as other marks that could not be removed. This does not affect functionality and will not be seen once installed onto your vehicle."

Brand:Schrader Electronics FCC#:MRXG53MA4S Manufacturer Part Number:13581558 Frequency:315 MHz Other Part Number:22854866 Service Kit:930 snap-in style valve stem Placement on Vehicle:Left, Right, Front, Rear Quantity you will receive:1 sensors & 1 valve stem kits Surface Finish:gray Warranty length:30 day Warranty Warranty:Other

TPMS104Q1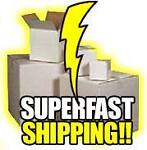 Visit My eBay Store: Super_Fast_Shipping_2_You
PLEASE READ-
W
e recommend that you provide us with your year make and model to verify that this sensor is compatible with your vehicle
.

- This is a Used sensor, batteries can NOT be replaced and MUST be relearned/programmed to your vehicle.
A tire shop is the best way to have these installed & relearned.
They will come with a new service kit that will need to be installed at the time of tire installation.
You will need a tire valve core tool if self installing on your tires.
Description:
- Listing is for 1 used TPMS (tire pressure monitoring system) sensor.
All sensors are cleaned, tested and include a FREE service rebuild kit (see picture).
Service kit replaces the metal ring, rubber gasket-seal, hex nut, valve stem core and valve stem cap.
Kits will need to be installed on to sensors, s
ensors will need to be relearned/programmed to your vehicle.
Condition: Used, tested sensor w/ new valve stem kit
Part # (on sensor): 22854866
Compatible part #'s: 13581558
FCC ID #: MRXG53MA4S
Frequency: 315 MHz
Fits the following vehicles:
Chevy:
2011-2015 Chevy Volt

2010-2015 Chevy Equinox
GMC:
Buick:
Cadillac:
2013-2015 Cadillac XTS


ATEQ VT 30 and Ateq Check Box photo's are for Demonstration of test purposes only.Some sensors may have grease stains as well as other marks that could not be removed. This does not affect functionality and will not be seen once installed onto your vehicle.
Tire Accessories for Sale
Fri, 22 Oct 2010
About 8.4 million Ford vehicles that can possibly catch fire remain on the road because of lack of owner information even after the largest U.S. safety recall ever, regulators said Thursday. The National Highway Traffic Safety Administration urged owners of the 14 million vehicles recalled between 1999 and 2009 for leaky cruise-control switches to take their unrepaired vehicles in to dealers.
Fri, 17 Feb 2012
The U.S. Department of Transportation on Thursday released its long-awaited guidelines on distracted driving, calling on automakers to disable applications that allow drivers to manually access social media, surf the Web or send text messages while on the road. The recommendations also seek to prevent any in-car technologies that require drivers to use both hands or take their eyes off the road for more than two seconds.
Mon, 30 Nov 2009
The entry level Mustang finally gets a decent powerplant for the 2011 model So what, you may say. 305 horses is hardly an earth-shattering amount of power for an American muscle car. And you'd be right.