"1 used tire sensor that has been checked with the ATEQ VT30 service tool. Sensor is in good, working condition that comes complete with a FREE new Service Kit. (Kit includes- Metal Ring, Rubber gasket-seal, Hex Nut, Valve Stem Core and Valve Stem Cap). Service kit will need to be installed on to sensor & sensor will need to be relearned/programmed to your vehicle by a tire shop. Some sensors may have grease stains as well as other marks that could not be removed. This does not affect functionality and will not be seen once installed onto your vehicle."

Brand:Schrader Electronics FCC#:MRXG53MA4S Manufacturer Part Number:13581558 Frequency:315 MHz Other Part Number:22854866 Service Kit:930 snap-in style valve stem Placement on Vehicle:Left, Right, Front, Rear Quantity you will receive:1 sensors & 1 valve stem kits Surface Finish:gray Warranty length:30 day Warranty Warranty:Other

TPMS104Q1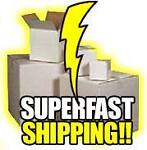 Visit My eBay Store: Super_Fast_Shipping_2_You
PLEASE READ-
W
e recommend that you provide us with your year make and model to verify that this sensor is compatible with your vehicle
.

- This is a Used sensor, batteries can NOT be replaced and MUST be relearned/programmed to your vehicle.
A tire shop is the best way to have these installed & relearned.
They will come with a new service kit that will need to be installed at the time of tire installation.
You will need a tire valve core tool if self installing on your tires.
Description:
- Listing is for 1 used TPMS (tire pressure monitoring system) sensor.
All sensors are cleaned, tested and include a FREE service rebuild kit (see picture).
Service kit replaces the metal ring, rubber gasket-seal, hex nut, valve stem core and valve stem cap.
Kits will need to be installed on to sensors, s
ensors will need to be relearned/programmed to your vehicle.
Condition: Used, tested sensor w/ new valve stem kit
Part # (on sensor): 22854866
Compatible part #'s: 13581558
FCC ID #: MRXG53MA4S
Frequency: 315 MHz
Fits the following vehicles:
Chevy:
2011-2015 Chevy Volt

2010-2015 Chevy Equinox
GMC:
Buick:
Cadillac:
2013-2015 Cadillac XTS


ATEQ VT 30 and Ateq Check Box photo's are for Demonstration of test purposes only.Some sensors may have grease stains as well as other marks that could not be removed. This does not affect functionality and will not be seen once installed onto your vehicle.
Tire Accessories for Sale
Mon, 15 Apr 2013
At £25,285 the new Golf GTD – revealed at the Geneva Motor Show last month – is just £310 more than the old model despite an increase in equipment and performance and a better specification. Looking pretty much how you'd expect a GTI Diesel to look, the GTD gets smoked LED rear lights, bi-xenons with LED running lights, two chrome tailpipes, 18″ Nogaro alloys and the slightly butch body kt which includes side skirts, butch bumpers and a roof spoiler. Inside is 'GTI' too with tartan trim, black roof lining, sports steering wheel and GTD-specific trim for the gear lever, trim strips and instrument cluster.
Sun, 10 Jan 2010
The North American International Auto Show kicks off this week. Tomorrow (Monday 11th January 2010) sees the opening day of the 2010 Detroit Motor Show (North American International Auto Show), the first major car show of the season, so we thought we ought to do a quick round-up of some of the cars you're likely to see. One of the big domestic showings will be the Cadillac CTS-V Coupe, the super-quick coupe version of Cadillac's super saloon.
Fri, 22 May 2009
By Tim Pollard First Official Pictures 22 May 2009 13:53 At last, we can present the strangest new BMW for some time (and there have been a few): the new 5-series Gran Turismo, or GT for short. Motoring journos sometimes overuse the word 'radical', but the new BMW 5-series GT is one of the few new arrivals that is genuinely segment busting. In fact, when uploading this story we had to tag the article page on our website.