"1 used tire sensor that has been checked with the ATEQ VT30 service tool. Sensor is in good, working condition that comes complete with a FREE new Service Kit. (Kit includes- Metal Ring, Rubber gasket-seal, Hex Nut, Valve Stem Core and Valve Stem Cap). Service kit will need to be installed on to sensor & sensor will need to be relearned/programmed to your vehicle by a tire shop. Some sensors may have grease stains as well as other marks that could not be removed. This does not affect functionality and will not be seen once installed onto your vehicle."

Brand:Schrader Electronics FCC#:MRXG53MA4S Manufacturer Part Number:13581558 Frequency:315 MHz Other Part Number:22854866 Service Kit:930 snap-in style valve stem Placement on Vehicle:Left, Right, Front, Rear Quantity you will receive:1 sensors & 1 valve stem kits Surface Finish:gray Warranty length:30 day Warranty Warranty:Other

TPMS104Q1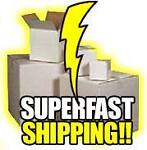 Visit My eBay Store: Super_Fast_Shipping_2_You
PLEASE READ-
W
e recommend that you provide us with your year make and model to verify that this sensor is compatible with your vehicle
.

- This is a Used sensor, batteries can NOT be replaced and MUST be relearned/programmed to your vehicle.
A tire shop is the best way to have these installed & relearned.
They will come with a new service kit that will need to be installed at the time of tire installation.
You will need a tire valve core tool if self installing on your tires.
Description:
- Listing is for 1 used TPMS (tire pressure monitoring system) sensor.
All sensors are cleaned, tested and include a FREE service rebuild kit (see picture).
Service kit replaces the metal ring, rubber gasket-seal, hex nut, valve stem core and valve stem cap.
Kits will need to be installed on to sensors, s
ensors will need to be relearned/programmed to your vehicle.
Condition: Used, tested sensor w/ new valve stem kit
Part # (on sensor): 22854866
Compatible part #'s: 13581558
FCC ID #: MRXG53MA4S
Frequency: 315 MHz
Fits the following vehicles:
Chevy:
2011-2015 Chevy Volt

2010-2015 Chevy Equinox
GMC:
Buick:
Cadillac:
2013-2015 Cadillac XTS


ATEQ VT 30 and Ateq Check Box photo's are for Demonstration of test purposes only.Some sensors may have grease stains as well as other marks that could not be removed. This does not affect functionality and will not be seen once installed onto your vehicle.
Tire Accessories for Sale
Tue, 11 Jun 2013
Jaguar Land Rover is to lead four UK universities in a £10m ($15.5m) government scheme to develop virtual simulation technologies and processes to help improve and accelerate the car design process. The carmaker will be leading project teams from the universities of Cambridge, Loughborough, Leeds and Warwick in the Program for Simulation Innovation (PSI), developed to improve the potential of the UK virtual simulation industry. It is hoped that through its results design quality and capability can be improved through the simulation of sights, sounds and smells.
Mon, 03 Dec 2012
The third Dacia model for the UK – the Dacia Sandero Stepway – a rugged compact crossover based on the Sandero will cost from £7,995. The Sandero Stepway is a rugged compact crossover – with a higher ride height and bolted on chunky bits - based on the very inexpensive Sandero, so you won't be shocked to learn that the Sandero Stepway is as inexpensive as its hatch sibling – from only £600 more than the equivalent trim Sandero. Dacia has decided that the Sandero Stepway won't come in completely stripped-out Access trim – unlike the Sandero and Duster SUV – but the entry level will be the Sandero Stepway Ambience, with a better equipped Stepway Lauréate for those who want a few more home comforts.
Wed, 14 Oct 2009
Ford Motor Co.'s new recall of vehicles that pose potential fire hazards will be its last because the latest action covers all remaining cars and trucks with cruise-control switches made by Texas Instruments, even if those switches don't pose safety risks, a Ford spokesman said today. "We did this to reassure customers and make sure there will be no future actions connected to this," spokesman Wes Sherwood said in an interview. "We've gone to extra lengths to include both vehicles with risks and those that don't show risk." Yesterday, Ford announced a recall of 4.5 million vehicles--its eighth in the past decade involving cars and trucks with faulty cruise-control deactivation switches.