"WE ONLY SELL NEW OLD STOCK PARTS YOU WILL NOT BE DISAPPOINTED READ OUR FEEDBACK IF IT IS USED WE TEST IT AND IF IT DOES NOT WORK CORRECTLY WE WILL PAY RETURN SHIPPING."

Brand:Fird model A fomoco nos Surface Finish:NOS NORS FLATHEAD SWITCHES 6 VOLT DASH OLD Manufacturer Part Number:28 29 30 31 dash accessories vintage Warranty:Yes Interchange Part Number:antique parts kit old new 30's Part Brand:Ford model A Other Part Number:1920's 1930's vintage nos trim Country of Manufacture:United States Placement on Vehicle:Front UPC:Does Not Apply
1928 1929 1930 Model A Water Pump Kit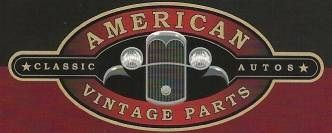 NOS Water Pump Kit

PART #C REAL NICE CLEAN PART NOS HEAVY DUTY MADE TO LAST YOU WILL NOT BE DISAPPOINTED
MADE FOR THE FOLLOWING VEHICLES:
Ford 1928-30 shaft 10 inches

WE OFFER EXCELLENT
CUSTOMER SERVICE READ OUR FEEDBACK
INTERNATIONAL BUYERS WE CHARGE ACTUAL SHIPPING AND COMBINE ITEMS TO SAVE YOU DOLLARS ALSO HELP DEFRAY ANY CUSTOMS FEES
DO NOT DUPLICATE OR COPY! Template Made By: © InkFrog.com
Auction Templates, Logos, Store fronts and more!
inkFrog Analytics
Cooling System for Sale
Mon, 10 Jun 2013 00:00:00 -0700
There may be more car collections hidden in Southern California garages, hangars and warehouses than anywhere else in the world, and Aaron Weiss knows almost all of the collectors. Weiss, along with co-founders Ben Reiling, Paul Colony and a large contingent of car-crazy compatriots and sponsors, put together the third annual San Marino Motor Classic on June 9 with 250 cars ranging from grand tourers to a Wells Fargo stage coach hauling guests around the show. "It's the best of the public and private collections in the Los Angeles area," said emcee Ed Justice Jr., president of industry products company Justice Brothers.
Thu, 07 Nov 2013 00:00:00 -0800
This year we've seen some great concepts and production models debut at shows across the world, but as the days get shorter and the nights get colder, it's a signal the year is nearly at an end. For CDN, a typically hectic event schedule is concluded with a trip to Tokyo for the forty-third edition of its annual show. Ahead of its opening, the carmakers have begun to announce what we can expect to see sitting pride of place on their stands.
Thu, 23 Apr 2009 00:00:00 -0700
This summer marks the centennial of when Daimler-Motoren-Gesellschaft and Benz & Cie separately registered their company logos in 1909. In celebration of the occasion, Mercedes has revealed a CL 500 "100 years of the trademark" anniversary edition. Daimler's was the Mercedes Star, while Benz's was "Benz" set in the center of a laurel wreath.