This multimedia interface allows you to connect A/V sources such as Digital TV, rear camera, iPod video or any other video source to your factory navigation system or OEM LCD screen.
Once installed, the video from the factory
DVD player can be viewed whilst the car is in motion instead of only when stationary.
Navigation System:
Compatibility:
Installation:
Connect the interface wiring to the existing 22 pin connector located behind the DVD unit. Instructions on where to connect the wires are included.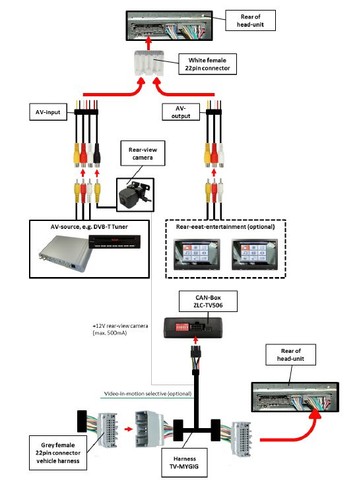 We have extensively tested this product over the past years and confident that it will work with all factory fitted systems in the car models listed above. If for any reason you are not completely satisfied or have any issues with compatibility you can return it to us for a refund.
This interface is intended for passenger use only. In some countries it is forbidden to watch moving images while driving a vehicle. We cannot accept any liability of any material or personal damages caused by the installation or use of this product. Therefore, installation of this product will be performed at the user full responsibility.