"SHOP SERVICE REPAIR MANUALOWNER OPERATOR MANUAL OPERATOR MANUAL HANDBOOK (SUPPLEMENT MANUAL)PARTS ASSEMBLY MANUAL AND MORE"

Brand:FORD Type:Service Manual PARTS CATALOG OPERATOR OWNER Model Year:1965-1975 Equipment Type:FORD TRACTORS 1965-1975, Also Ford Major and Dexta Model:2000 3000 4000 5000 7000 Equipment Make:Ford

PAY LESS SAME MANUAL IS SOLD ON EBAY FOR OVER $30

THIS AUCTION IS FOR BEST VALUE, SET OF MANUALS ON CD-ROM

TOTAL OF 1973 PAGES FOR THE 5 LISTED MANUALS
PLUS I WILL ADD SOME ADDITIONAL EXTRA MANUALS FOR YOU

SHOP SERVICE REPAIR MANUAL
OWNER OPERATOR MANUAL
OPERATOR MANUAL HANDBOOK (SUPPLEMENT) PARTS ASSEMBLY MANUAL

FORD TRACTORS SHOP SERVICE REPAIR MANUAL
THIS MANUAL COVER FORD 2000 3000 4000 5000 7000
THIS PDF FORMAT MANUAL IS OVER 900 PAGES

FORD TRACTORS 2000 3000 4000 5000 OWNER OPERATOR MANUAL
THIS MANUAL IS 90 PAGES

FORD TRACTORS 2000 3000 4000 5000 OPERATOR MANUAL HANDBOOK (SUPPLEMENT )
THIS MANUAL IS 160 PAGES

PARTS MANUAL IS OVER 800 PAGES
FORD 3000 SERIES 3 CYL TRACTORS (1/65-12/74)
01A01 FRONT WHEEL ASSEMBLY
2100, 2110, 2120, 2150, 2300, 2310, 3055, 3100, 3120, 3150, 3190, 3300, 3310, 3550, 4140 And More

FOR MORE DETAIL PLEASE SEE SAMPLE OF EACH MANUAL
POSTED IN THE AD THOSE ARE TAKEN FROM THE ACTUAL PDF FILES

THESE MANUALS ARE PDF FORMAT ON CD
IF YOU WANT TO HAVE A BOOK MANUALS JUST PRINT THEM
THESE ARE NOT PAPER BOOK MANUALS

FEEL FREE TO EMAIL ME AT ANY TIME I AM HERE TO HELP

THIS IS FASTSHIPPER AND MAKE SURE TO GET YOUR ITEM TO YOU FAST
ON TIME NO DELAY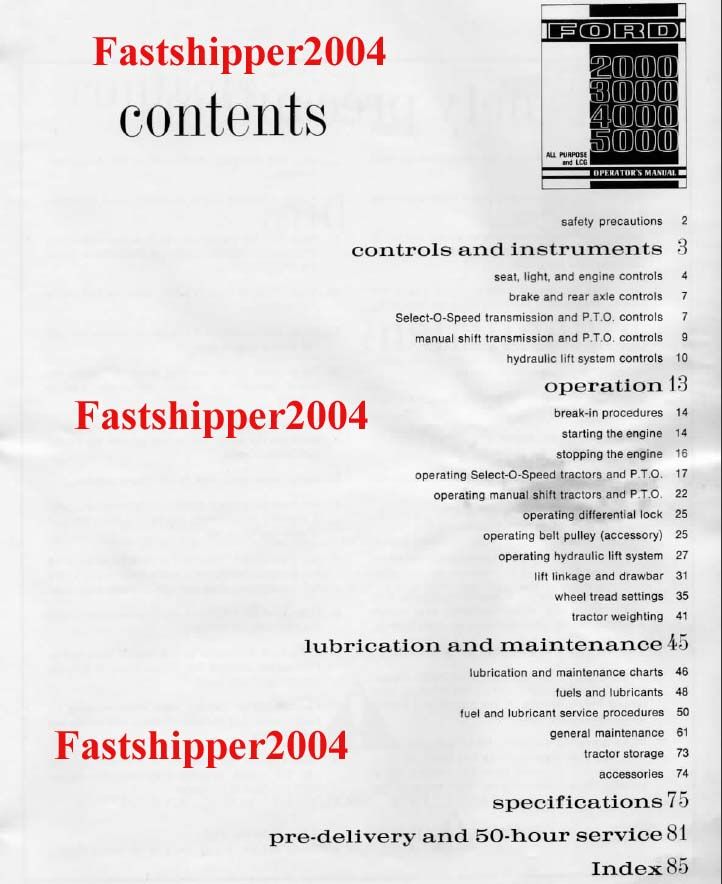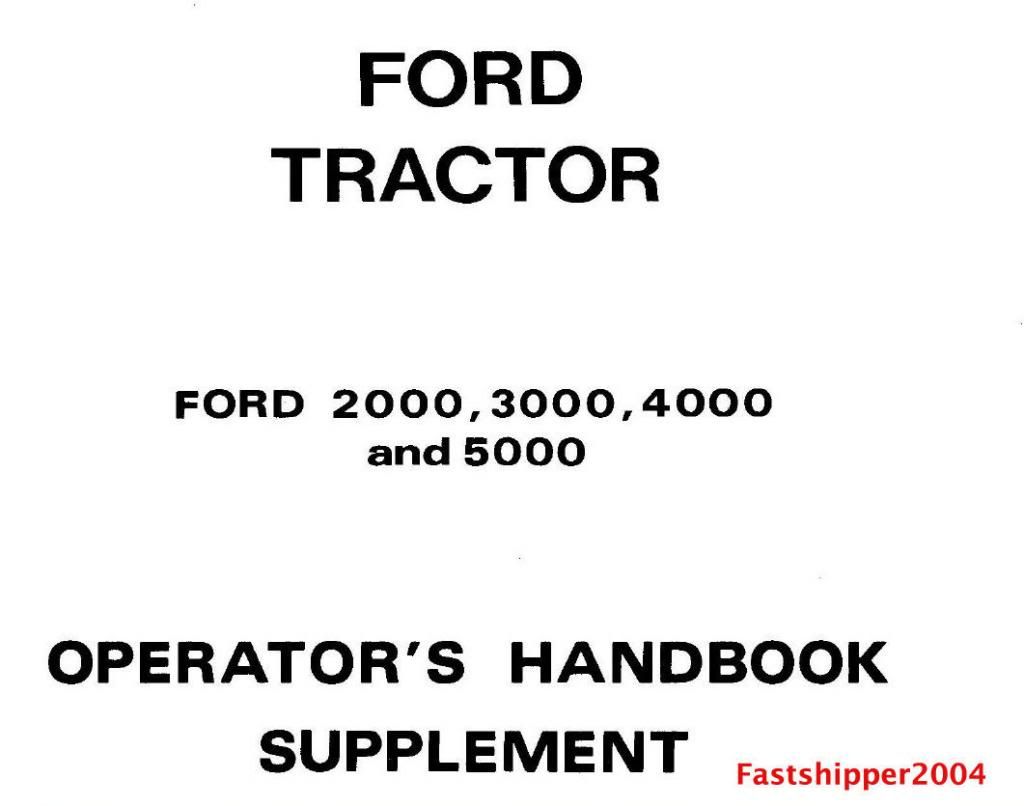 Other for Sale
Mon, 31 Aug 2009 00:00:00 -0700
The first thing you notice about Ford Motor Co.'s new 6.7-liter Power Stroke diesel truck engine is how quiet it is. Standing next to it, you wouldn't know it was a diesel unless someone said so. The engine debuts early next year in Ford's revamped line of Super Duty pickups.
Mon, 24 Nov 2008 00:00:00 -0800
The second-generation Infiniti G37 coupe - badged Nissan Skyline in Japan - was previewed by the Coupe Concept at the 2006 NAIAS show and debuted in production form at the 2007 New York Auto Show. Now, at the 2008 LA Auto Show, the convertible version has appeared with a three-part folding hardtop, following BMW's lead with the conceptually similar 3-Series cabriolet. Powered exclusively by a 3.7-liter V6, the G37 convertible comes with a specification that includes leather seats, a 'power walk-in' device that electrically moves the front seats out of the way to help ingress and egress to the rear, and air-conditioning that automatically detects whether the roof is up or down.
Fri, 24 Jun 2011 00:00:00 -0700
Cars 2, which opens on Friday, stands to be one of the top box-office hits of the summer. Many of our favorite characters are back, such as Lightning McQueen and Tow Mater, but there are also a bunch of new rides rolling onto the big screen. Some, like Grem the Gremlin and Acer the Pacer, take obvious inspiration from real cars.