Condition:New Brand:MACE Manufacturer Part Number:GSK675-A
{tit}
{cp}
This standard replacement complete gasket kit features OEM quality gaskets and seals. It is manufactured and packaged right here in Australia so you can be assured of perfect fitment and durability for your late model Falcon, Territory and any other vehicle equipped with the same motor. This kit includes every gasket, O-ring and seal found in the Barra motor from top to bottom.
Vehicle Fitment Guide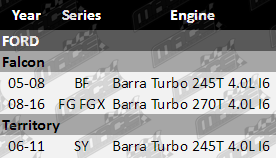 *** You may receive an Address Confirmation email in case our system is unable to verify your delivery address based on our address database ***
E454
DOMESTIC ORDERS
Orders typically take 1-3 business days to prepare and process prior to dispatch. Freight may take 1-10 business days from the date of dispatch to delivery within Australia. No Weekend Deliveries.
To Calculate freight costs simply proceed to the checkout where shipping will be calculated automatically.
INTERNATIONAL ORDERS
When you are checking out an international order, please complete all the necessary information. You must select your region from the delivery method drop down menu, to get the correct shipping costs.
Orders outside of Australia may take up to 4 weeks.
*You will be responsible for any applicable taxes and/or duties and will need to be paid upon delivery*
*Saturday and Sunday ARE NOT business days*
We at MACE ENGINEERING are a design company specialising in automotive product development. From a one off custom design right through to mass manufacturing, product we can deliver.
With over 25 years of experience, you can be assured we'll make it happen for you. In addition to automotive products, we've also been involved in the design and manufacture of other items such as steel structures for the manufacturing and movie industries, consumer products, specialised machinery and electronics engineering and all things that help improve the performance of your Holden or Ford.
Copyright 2010 MACE ENGINEERING GROUP