Returns Accepted:ReturnsNotAccepted Warranty:Yes Country of Manufacture:United States
PAGE BEST VIEW AT 1024 X 768 OR HIGHER RESOLUTION
---
HYDRO POWER
---
NEW - DUAL CONTROL MAP SENSOR ENHANCER
-----Built using the WATER4GAS specifications from their official e-book schematics-----




IMPORTANT - HOW DO I KNOW IF THIS MAP/MAF ENHANCER UNIT IS COMPATIBLE WITH MY VEHICLE'S MAP/MAF SENSOR?
Follow these instructions to find out - The out put wire from the map/maf to the computer will be the one that fluctuates in voltage when the engine is revved.
Using a volt meter & the vehicle running check the voltage on the output wire from the map/maf to the ECM-computer. Based on what ever the voltage is at idle,
if the voltage increases from that point when the engine is revved then these resistor based devices will work. If the voltage drops when the engine is revved then these type of
devices will not work with this type of map/maf sensor. Voltage would have to be added.

Not compatible with map/maf sensors that use a varying frequency signal used on some vehicles.

It is up to you to do the research and testing of your vehicle's map/maf sensor for compatibility with this map enhancer.

For use with a hydrogen generator installed.


This "HYDRO POWER" unit is built for functionality & is a must for anyone installing a hydrogen fuel cell in vehicles with a MAP-"Manifold Absolute Pressure" sensor or a MAF "Mass Air Flow" sensor.

This unit uses high quality linear potentiometers not like the ones used for volume control on your radio.

This unit lets you switch between your original vehicle's setting, Factory OEM - COMPUTER CONTROLLED & Hybrid - USER CONTROLLED
The "HYDRO POWER" enhancer's dials are numbered from 1 Rich to 21 Lean & allows 300 degrees of linear tuning radius which allows for better fine tuning of your fuel intake.
Dual dials allows the User to set separate optimal performance for - City, Stop & Go Traffic - & - Highway, high speed steady pace - Once set the user only needs to toggle between CITY or HWY driving. It will take a few weeks of driving to figure out the best settings for both.


--------WHAT'S INCLUDED?--------

----1 HYDRO POWER UNIT - Small Box W-3. 5" x D-2.25" x H-1"
----Plug for easy removal from car
----14 inches total lead wire from box. Wires clearly labeled as shown in pictures below.
----3 pieces shrink wrap tubing for you to use to connect your extension wires (Not Included) to the lead wires from Hydro Power unit.
You must provide your own extension wire to your Map Sensor
----2 sets of bullet connectors for easy fast connection/disconnection of you wire harness to/from your Map Sensor.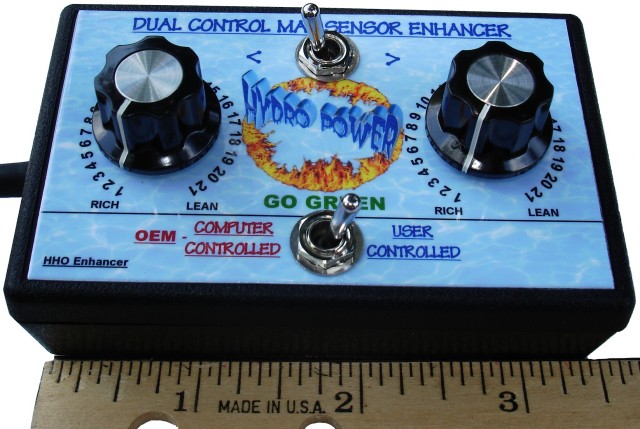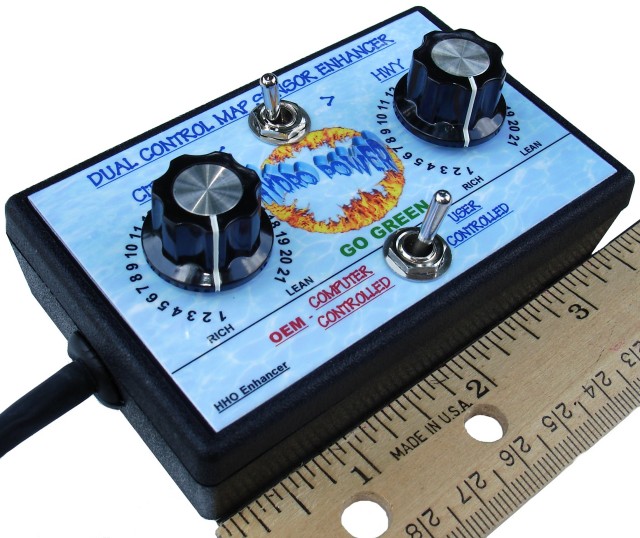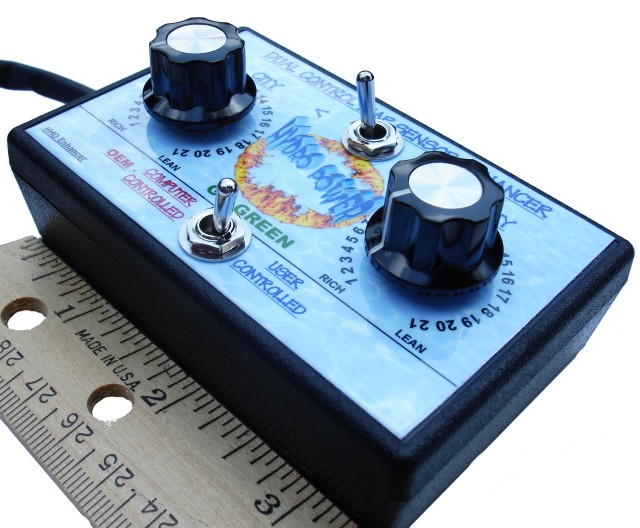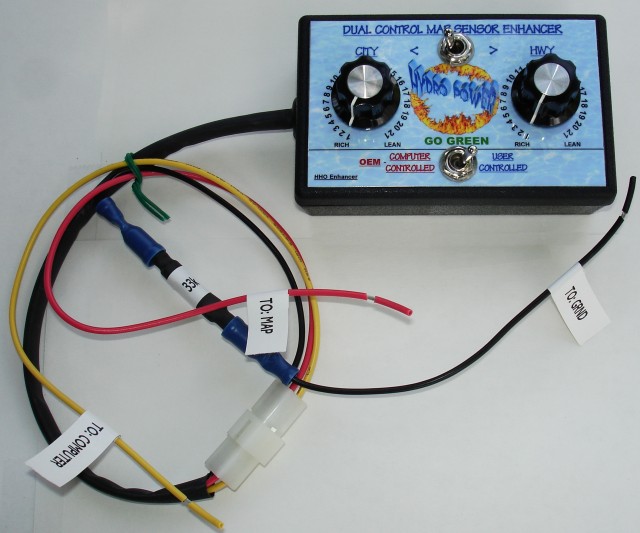 If your car has a MAP sensor or a MAF sensor then you will need this item to see the benefits of the Browns Gas.

You will not see the gains in miles per gallon until you install a MAP/MAF Sensor Enhancer.

Without this your vehicle may use more fuel than it did before you installed your Hydrogen Generator.

This happens because the oxygen sensor is detecting too much oxygen in the exhaust system because of the HHO gas.

The Electrolysis of water creates 2 parts Hydrogen & 1 part Oxygen hence H2O.

The oxygen sensor of the vehicles computer senses this extra oxygen & thinks that the engine is running too lean in turn telling the fuel injectors to add more fuel causing even lower miles per gallon which defeats the purpose of your Hydrogen Generator's HHO gas.

After installing a hydrogen generator on your vehicle, you'll need a way of controlling the computer on your vehicle to tell it that the engine no longer requires as much gasoline as it did before.

Installing the HHO "HYDRO POWER" enhancer unit will allow you to do that.

With the HHO "HYDRO POWER" unit you control the map or maf sensor's voltage signal to the car's computer allowing your car to use less gasoline and more of the hydrogen gas that has been created from your hydrogen generator.

Result - MORE MILES PER GALLON from your vehicle!
---
WARNING: Running an engine too lean can cause valve damage. It must be the right mixture of gasoline, HHO gas and intake air for your engine to run correctly. Do not purchase this device if you do not have a full understanding of what you are doing. Consult a trained technician on the subject of hydrogen systems.
By purchasing the "HYDRO POWER" MAP/MAF sensor enhancer unit you agree:
That you the buyer assumes all risk & responsibility for any damages or injury which may occur as a result of incorrect installment and/or fuel adjustment.

---

---------- WARRANTY ----------

Your "HYDRO POWER" unit will have a 30 day warranty from the date of purchase against defects in electronic workmanship in which the device fails to perform its function of regulating the voltage of a compatible map/maf sensor to the car's computer. Warranty is limited to the servicing of the "HYDRO POWER" unit, if it cannot be serviced a replacement of comparable design will be sent to you.
Any defective unit must be approved with an RMA number before returning.
Buyer pays for return shipping.

Warranty will be voided if:
Incorrectly installed & causes internal damage to the unit due to higher voltage/amps than required for the Map/Maf sensor.
If disassembled & tampered with or modified in any way.

---
---
PAYMENT OPTIONS:


Pay through PayPal with credit or debit card!





SHIPPING / HANDLING:

USA Domestic $5.80

INTERNATIONAL RATES - See International rates under the shipping & payment tab at the top of the listing.

– Please Note: Import duties, taxes, and charges are not included in the item price or shipping cost. These charges are the buyer's responsibility. Please check with your country's customs office to determine what these additional costs will be prior to bidding or buying.

Item will ship USPS PRIORITY MAIL within 48 business hours after payment is received & cleared.



---











---