Condition:New Brand:MSD Type:RPM Switch Manufacturer Part Number:8956 Part Brand:MSD Warranty:YES UPC:085132089567
Store Pages
Store Category
MSD Ignition 8956 RPM Activated Switches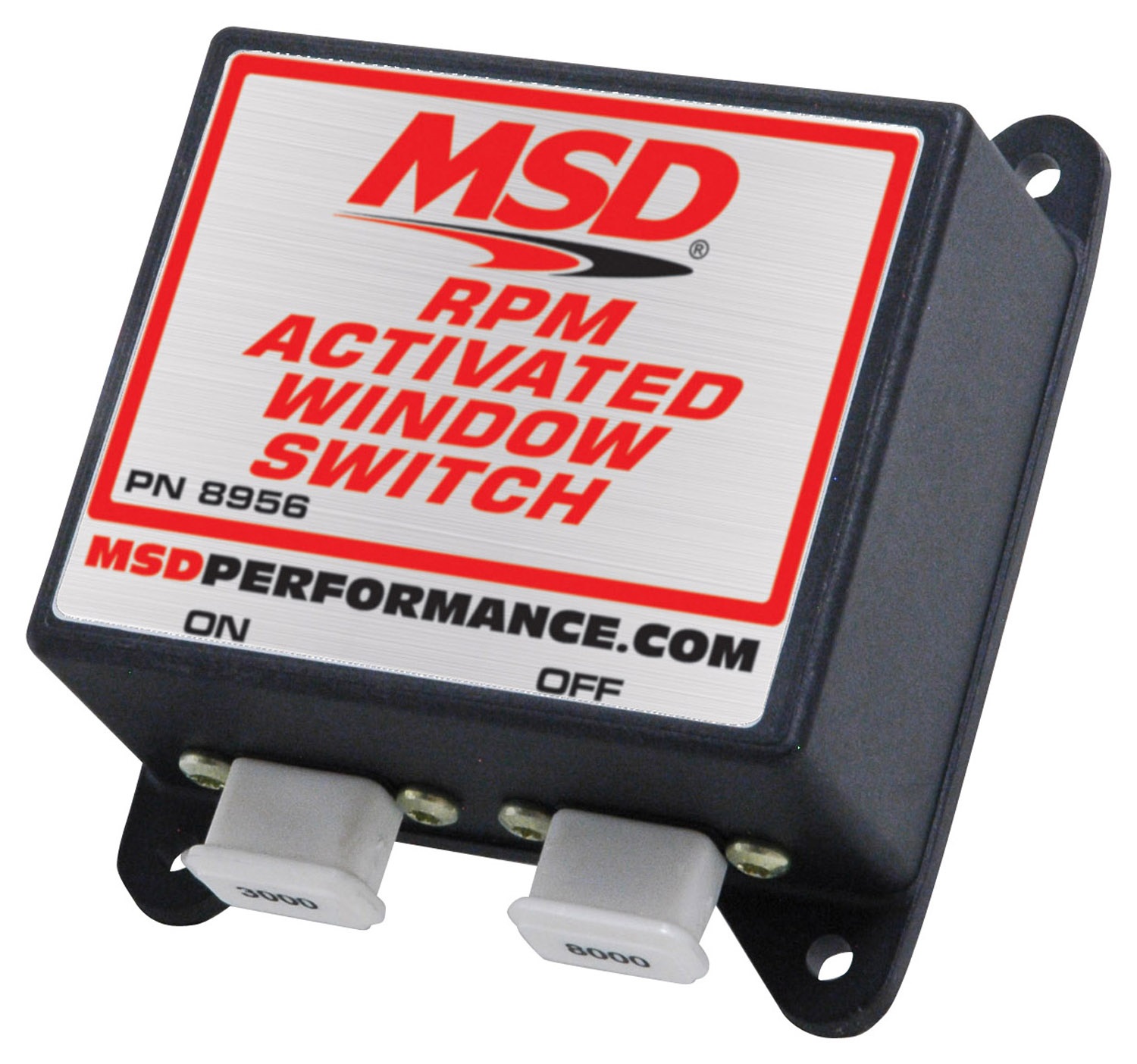 Description
RPM Switch
RPM Activated Switches
RPM Activated Switches; Window;
FEATURES:
Activate/Deactivate A Circuit/Different RPM Points
Use With Stock Or MSD Ignitions
Use RPM Modules To Set RPM Point
Activate A Circuit And One RPM Point
Turn Off The Same Circuit At A Different RPM
Great to Control A Nitrous System
Circuits That Require Over 1.5 Amps See MSD Relays
Autotronic Controls Corp. (ACC) was founded in 1970 as a research and development company by two engineers from White Sands (New Mexico) Missile Range. The men and their other partners were working on a lean burn fuel system called the Electrasonic Fuel Induction system to help fuel economy of new and older automobiles. As the new fuel system was being perfected, the air/fuel mixture was becoming so lean that it was difficult for conventional breaker points and early electronic ignitions to ignite it. The men of ACC then started investigating a new ignition system by using modern technology called capacitive discharge (CD). The CD design opened another door for the ignition, the capability to spark multiple times. ACC has produced the best performing and most popular performance ignitions for over 20 years. The high energy spark of the CD design combined with multiple sparks resulted in a potent ignition. Not only did the multiple spark discharge (MSD) ignite the lean fuel mixture, it made overall improvements in the engine's performance! Improved starting, smooth idle, less emissions and more power are benefits every car and truck can take advantage of, especially race cars. Professional racers learned of the new MSD quickly and soon word spread throughout the racing world. Since then, MSD Ignition Controls have gone on to be the ignition of choice of the top professional drivers in NHRA, IHRA, NASCAR, World of Outlaws, DIRT, SCORE, IDBA and many more. Together, our team designs, develops, tests and manufactures the entire line of MSD products including Ignition Controls, Coils, Timing Accessories and Spark Plug Wires and Accessories. MSD, housed in three buildings includes four engine dynos, two chassis dynos, complete CNC and machining centers, modern shipping and packaging areas plus assembly and burn-in departments.
About Us
Founded in 1967 as central New York's premier engine, machine and speed shop, today's Burkart Automotive represents two generations of family-owned and operated history. As the area's racing and performance hotspot, Burkart Automotive helped mainstream drag racing by bringing such big names as Bruce Larson, Tommy Ivo, King and Marshall and an array of other kings of the quarter mile on site for appearances as they worked their way across the northeast racing circuit.
Burkart Automotive specializes in engine building and machine work, 4x4 and off road accessories, and speed and performance gear. "The mission of the team at Burkart Automotive is simple - to be the best choice in the industry for your high-quality speed and performance needs. Whether it's a simple part or a high-performance custom engine, we want your experience to be just right. Our service, our integrity and our lineup of high quality products are the top priorities here at Burkart Automotive, and our goal is to bring you into our family when you buy from us."