"New old stock. The box may have some damage to end flap. Each set is inspected before being shipped."

Brand:Anco Manufacturer Part Number:815 UPC:Does Not Apply

NOS 15" Windshield Wiper Blades Anco Red Dot Anti Wind Lift 815 Chrome

Free Domestic Shipping!


Straight off the shelf of our old-time parts store.

New old stock.

One matched pair of ANCO 15" wiper blades No. 815.

Anti Wind Lift.

Fits.

1967-1969 Camaro
1964-1967 Chevelle
1959-1967 Chev full size car
1962-1967 Chevy II (not hard top or convertible)
1960-1965 Comet
1960-1969 Corvair
1963-1967 Corvette
1967-1968 Cougar
1967-1972 Dart
1968-1970 Coronet hard top and Charger
1960-1966 Falcon
1964-1968 Mustang
1967-1969 Barracuda
1967-1969 Firebird
1963-1966 Studebaker all except Hawk
1967-1972 Valiant


They have the Red Dot release for changing inserts.

These are the shinny chrome sets, not the dull silver sets. Rubber is nice and soft!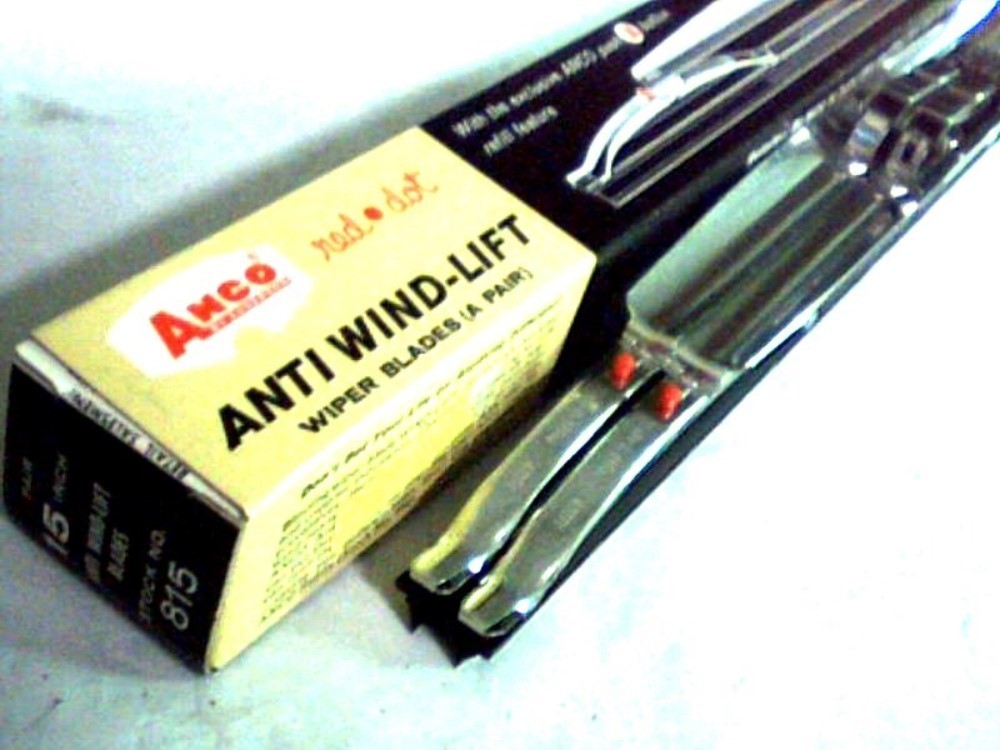 Free Shipping!!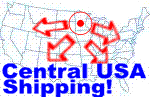 \
This item is shipped free using our super saver economy delivery service (2 to 11 business days)
or choose or expedited service (2 to 4 business days) for only $2.49 more!
International shipments can be combined in one box, saving you money, please email for the combined rate.

We Ship with USPS through Priority Mail, and First Class Mail and domestic orders may also go parcel post or UPS Ground. We will email a proof of delivery or tracking number once we ship

.

All International shipments must carry the proper value; we cannot evade your local taxes.

You will receive an email within 1 business day of the auction close containing payment options and total amount owed. If not received within 1 business day after auction closes, please Email or call. We send out a reminder for payment every 7 days.

Sales tax must be collected in Minnesota (6.85%).

We want you to be satisfied. We will do whatever it takes to make things right. Please contact us if you have a problem.

For Returns you must contact us prior to 45 days from date of sale. We may deduct the actual outgoing shipping charge from any refund as this may be a non-refundable part of your purchase

Make sure to contact us before returning an item to receive an RMA number, otherwise our shipper will not accept the package.

Jacksons Auto Parts & MW Inc.

6220 Grand Ave

Duluth, MN 55807

M-F 8:30am to 5:00pm

------------------------------------

(218) 624-5791

(888) 399-7278

Please be specific and include the item# EE21236 in any correspondance

at checkout choose expedited service (2 to 4 business days) for only $2.49 more!

Powered by SixBit's eCommerce Solution
Windshield Wiper Systems for Sale
Sat, 06 Jun 2009 00:00:00 -0700
The Fiat 500 on Wall Street - Image by AP Fiat has obviously taken a good look at what BMW has managed with the MINI and thought 'We can do that'. After all, the Fiat 500 is a car very similar in concept to the MINI. Designed to evoke a motoring icon, but made very much 21st century in its execution, both the MINI and the Fiat 500 have gone down a storm in Europe.
Thu, 12 Sep 2013 00:00:00 -0700
Jeep introduced its new 2014 Wrangler Dragon Edition on Thursday as a limited-production model that will be featured in North American showrooms as early as this fall. First seen at the 2012 Beijing Auto Show, this new Wrangler sparked the interests of Jeep enthusiasts around the world with its striking black-and-bronze satin-gloss exterior and interior details, in addition to its suggested retail price of $36,095. Mike Manley, president and CEO of Jeep Brand, Chrysler Group, said that the release of the Dragon Edition Jeep has received tremendously positive feedback with its stunning and unique upscale design.
Fri, 03 Feb 2012 00:00:00 -0800
Audi A5 TDIe offers more efficient engines in Sportback & Coupe Audi has made the A5 Coupe and Sportback even more efficient with two new TDIe engines and SE Technik specification option. We've only just reported the powerful BiTurbo 3.0 litre diesel engines for the Audi A6 and A7, and now we get news from Audi of diesel engines at the other end of the spectrum with new, more efficient TDIe engines for the Audi A5 Coupe and A5 Sportback. The new efficient TDIe engines come in either a 136PS or 163PS versions, with fuel economy as impressive as 64.2mpg in the A5 Sportback 2.0 TDIe 136PS.