Condition:New Brand:Jabsco Manufacturer Part Number:31416 UPC:671880534659
Jabsco is a worldwide leading manufacture of products for the leisure marine market including water system, engine cooling pumps, searchlights and marine waste systems. Jabsco also offers industrial pumps for hygienic applications, fluid transfer in chemical processing, laboratory, paint processing, plating, and construction.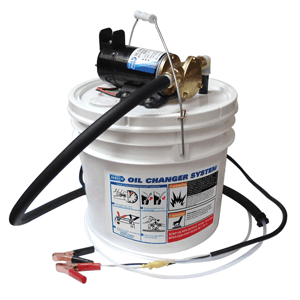 OUR PRICE: $ 269.00
Porta Quick Oil Changer
DIY Oil Change System
Jabsco Economy Engine Oil Changer – 12V
The Do-it-Yourself Oil Changer will extract up to 50 weight of oil at a temperature of 160°F (71°C) through the engine's dip stick tube, usually in less than 5 minutes.
The Porta-Quick Portable Oil Changer makes quick, clean and easy oil changes on-board any boat, because it uses the vessel's own power supply to operate the powerful oil reservoir mounted flexible impeller pump.



Body Materials
Polypropylene
Body Materials 2
Plastic container with 10 quart (9.46 litre) capacity
Diaphragm
Geolast diaphragm
Dimensions (H x W x D)
12.37 dia x 12.75 (inches)
314 dia x 324 (mm)
Electrical Connection 1
7 ft power cord with alligator clips
Suction Hose
8 feet (2.43 meters), oil & heat resistant
Valves
VitonTM
Weight
3.5 lbs (1.6 kg)
Motor Type
Includes integral power switch

Technical Data Sheet
Categories
Marine Plumbing & Ventilation | Transfer Pumps
Winterizing | Oil Change Systems