Condition:New Brand:Remocon Manufacturer Part Number:012175120124 UPC:012175120124
WORLD'S SMALLEST INTELLIGENT UNIVERSAL KEY-CHAIN LEARNING REMOTE !!!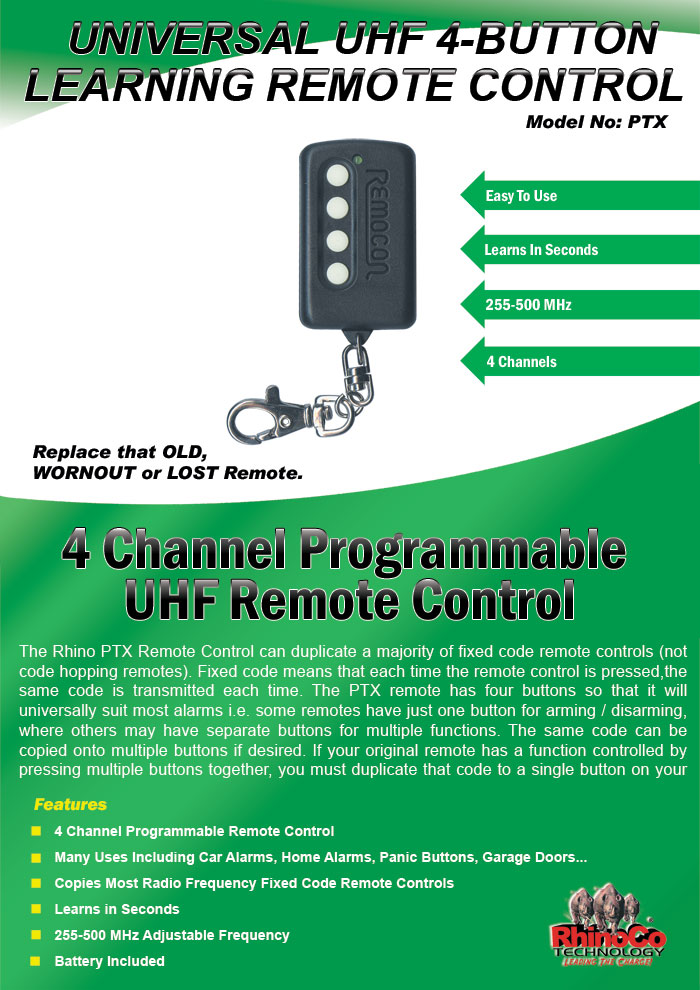 DESCRIPTION:
Please note: This remote will Not Duplicate Brand factory car alarm remote!!! It will Duplicate ONLY Aftermarket alarm remotes!!! And it will Not Duplicate GARAGE DOOR remote with "rolling code""Code-Rotating," "Mega-Code," " Intellicode" "Security +" or other proprietary transmitters" ,
IT will Duplicate only remote with Fix frequency's Or code Like All the Dip switch remotes!!!
*LEARNS DIRECTLY FROM YOUR REMOTE WITHOUT ANY FREQUENCY COUNTER !
* LEARNS DIFFERENT TYPE OF HOME ALARM SYSTEM REMOTES !
* CAN PROGRAM 4 DIFFERENT REMOTES INTO 1 !
* LEARNS DIFFERENT TYPE OF CAR ALARM REMOTES !
* BUTTONS GLOW IN THE DARK!
* CONTROLS YOUR CAR DOOR AND TRUNK !
* CONTROLS ANY SECURITY GATE & GARAGE DOOR !
* CONTROLS REMOTE ENGINE STARTER !
* WORKS LONGER DISTANCE THAN ANY OTHER REMOTE IN THE MARKET !
* LEARNS DIRECTLY FROM CAR HOMELINK GARAGE DOOR TRANSMITTER!
* CONTROLS YOUR HOME DOOR LOCK!
1 year replacement warranty!
SUMMARY OF SELLING POLICY :
ALL ITEM IN STOCK READY TO SHIP!
NO PICK UP!
RETURN POLICE:
ALL SALES ARE FINAL REPLACEMENT ONLY !!!
IN THE RARE EVENT THERE'S A PROBLEM, PLEASE CONTACT US FOR ITEM REPLACEMENT!!!
BID WITH CONFIDENCE
THANKS FOR LOOKING