"SHIPS IN 24 HOURS!"

Brand:SUPERTECH PERFORMANCE Manufacturer Part Number:KPR-5.5-7A, VS-H5.5E, VS-H5.5I

Supertech Performance Valve Locks/Keepers & Seals

1994 - 2001 ACURA INTEGRA B18C1;B18C5
1992 - 1993 ACURA INTEGRA B17A1
1999 - 2000 HONDA CIVIC B16A2
1994 - 1997 HONDA CIVIC DEL SOL B16A2;B16A3
Package Consist of 32 Valve Locks/Keepers & 16 Valve Seals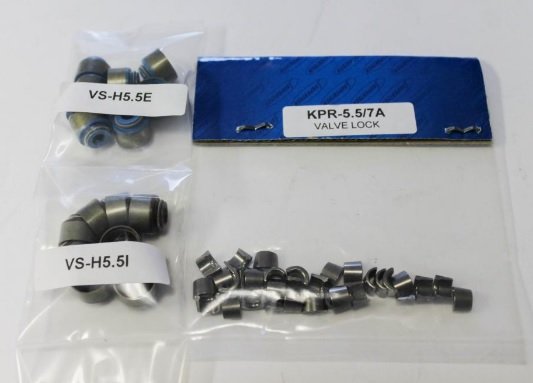 Supertech Performance Valve Locks


5.5mm Valve Lock; 7 degrees; Qty 2 needed per valve -
Set of 32 keepers, enough to do (1) 16 valve engine
Supertech Performance Valve Seals


Valve Seals: Intake -- x8 -- VS-H5.5I -- 11.0mm Guide OD, 12.9mm Seal OD
Valve Seals: Exhaust -- x8 -- VS-H5.5E -- 11.0mm Guide OD, 12.9mm Seal OD

Supertech Performance is best known for high performance valves, and valvetrain components. With over 30 years of experience Supertech performance has been providing the racing market with first class parts for every type of racing application. Whether it is Drag Racing, IRL, Rally, Road Racing or any other motorsport for that matter, Supertech Performance has the perfect performance solution for your application.





(32) Supertech Performance Valve Locks/Keepers

(16) Supertech Performance Valve Seals
Note: We can customize any Supertech Performance Valvetrain package for you. Please contact us using "ask seller a question" or give us a call or text at 832-431-9178. We usually return a response the same day.


1994 - 2001 ACURA INTEGRA B18C1;B18C5
1992 - 1993 ACURA INTEGRA B17A1
1999 - 2000 HONDA CIVIC B16A2
1994 - 1997 HONDA CIVIC DEL SOL B16A2;B16A3


1) We ship within 24 hours of complete processed payment with the exception of weekends and holidays. Delivery is usually 2-8 business days within the United States.
2) Free shipping is provided to the lower 48 states.
3) Customers located in Alaska, Hawaii and Puerto Rico should contact us for best possible shipping rates.
4) We ship Worldwide.
5) We do not ship to P.O. BOXES at this time. Military service members, please contact us directly to accommodate shipping to APO / FPO Military Mail.


We accept payment by PayPal, Visa, Mastercard, Amex and Discover.


We offer a 14 day return policy. Buyer pays return shipping. Return must be in 100% brand new unopened condition. A 25% restocking fee applies to all returns to cover eBay fees, PayPal Fees, original shipping fees, packaging material and processing fees. We may request pictures for claims regarding damages or wrong item(s) received. Exchanges may require additional shipping fee to ship out exchanged item(s).
We are here to answer any questions or concerns. Please contact us using "ask seller a question" or give us a call or text at 832-431-9178. We usually return a response within an hour, so please feel confident we are here for you! Please follow us on Instagram @jaysracingllc
FOLLOW US ON INSTAGRAM @JAYSRACINGLLC FOR A DISCOUNT
WE SHIP ALL ITEMS WITHIN 24 HOURS!!
Valves & Parts for Sale
Wed, 25 Jun 2014 00:00:00 -0700
The new Ford Edge (above) will arrive in the UK in 2015 The new Ford Edge – new to the UK, but already in Ford's model range in the US – has been revealed as Ford's big hope to cash in on the still growing obsession with SUVs of all shapes and sizes in the UK. A big brother to the new Fiesta-based EcoSport and the longstanding Ford Kuga, the new Ford Edge rides on underpinnings that started out as the new Mondeo (well, new to the UK when it finally arrives in the Autumn) and owes its looks, more or less, to the Ford Edge Concept we saw at the LA Auto Show last year. Just like the Edge Concept, the new Ford edge comes with a big statement grill and big alloys, LED lights all round and a choice of three trim levels - Trend, Sport and Titanium – with more than a fighting chance that Ford will add a Vignale version too.
Mon, 10 Jun 2013 00:00:00 -0700
BMW has dropped details on its next X5 SUV, but somehow a new model just feels more real once it's been spotted out and about during final shakedown testing. That's what happened here as eagle-eyed reader Todd H. caught up with a test-fleet 2014 BMW X5 35d diesel making the high-altitude test rounds in Colorado.
Tue, 12 Nov 2013 00:00:00 -0800
Lotus can't sell its road cars in North America anymore (dang safety regulations!), but that won't stop them from sending some hardcore track vehicles here for the true enthusiasts. Enter the Lotus Elise S Cup R. The Cup R variant of the Elise sports a 1.8-liter four-cylinder engine, delivering 217 hp and 181 lb-ft of torque with help from a Magnuson R900 supercharger.