Condition:New Brand:Autopart International Kit or Single Part:Kit Manufacturer Part Number:2600-290697 2600-34931 2600-290698 2700-95584 Warranty:3 Year Interchange Part Number:8C3Z3A131M AC3Z3A131MA 2600290697 28938, AC3Z3A131A 45A0743 260034931 2693481 28943, 45A1144 4012144 AC3Z3A131AA 45A3094 28944 26002906, 5C3Z3050D 8C3Z3050D F6TZ3050FB 5C3Z3050DA, 45D2133 95584 FA1684 5051133 104274 270095584, B80027 2601311 104274, 8C3Z3049B F5UZ3049A 45D0074 5001080CQ B80028, 2601349 PK80028 RP11115 45D0080 2710326641 FA2002, 5001080 FK80028 104275, F81Z5K483AA YC3Z5K483AA 45G0240 18290 5451240, 2652610 SK80043 5451697 270095073 5451240CQ, FOL646 MK80043 PK80043 5451240 JTS706 Kit Parts Included:Sway Bar, Ball Joint, Inner Tie Rod, Outer Tie Rod Placement on Vehicle:Left, Right, Front, Upper, Lower Other Part Number:2700-95081 2700-95073
ES800465 ES800483 ES800484 K80027 K80028
8C3Z3A131M AC3Z3A131MA 2600290697 28938
AC3Z3A131A 45A0743 260034931 2693481 28943
45A1144 4012144
AC3Z3A131AA 45A3094 28944 2600290698 4101094
5C3Z3050D 8C3Z3050D F6TZ3050FB 5C3Z3050DA
45D2133 95584 FA1684 5051133 104274 270095584
B80027 2601311 104274
8C3Z3049B F5UZ3049A 45D0074 5001080CQ B80028
2601349 PK80028 RP11115 45D0080 2710326641 FA2002
5001080 FK80028 104275
F81Z5K483AA YC3Z5K483AA 45G0240 18290 5451240 2652610 SK80043 5451697 270095073 5451240CQ FOL646 MK80043 PK80043 5451240 JTS706 For F-250 Super Duty RWD 08-10 Tie Rods Ball Joints Stabilizer Bar Link 6.85"
| | |
| --- | --- |
| FITS FORD F-350 SUPER DUTY 2008 TO 2010 2WD FRONT LEFT RIGHT STABILIZER BAR LINK 6.85" INNER OUTER TIE ROD END LOWER UPPER BALL JOINT | |
THIS SET FITS ON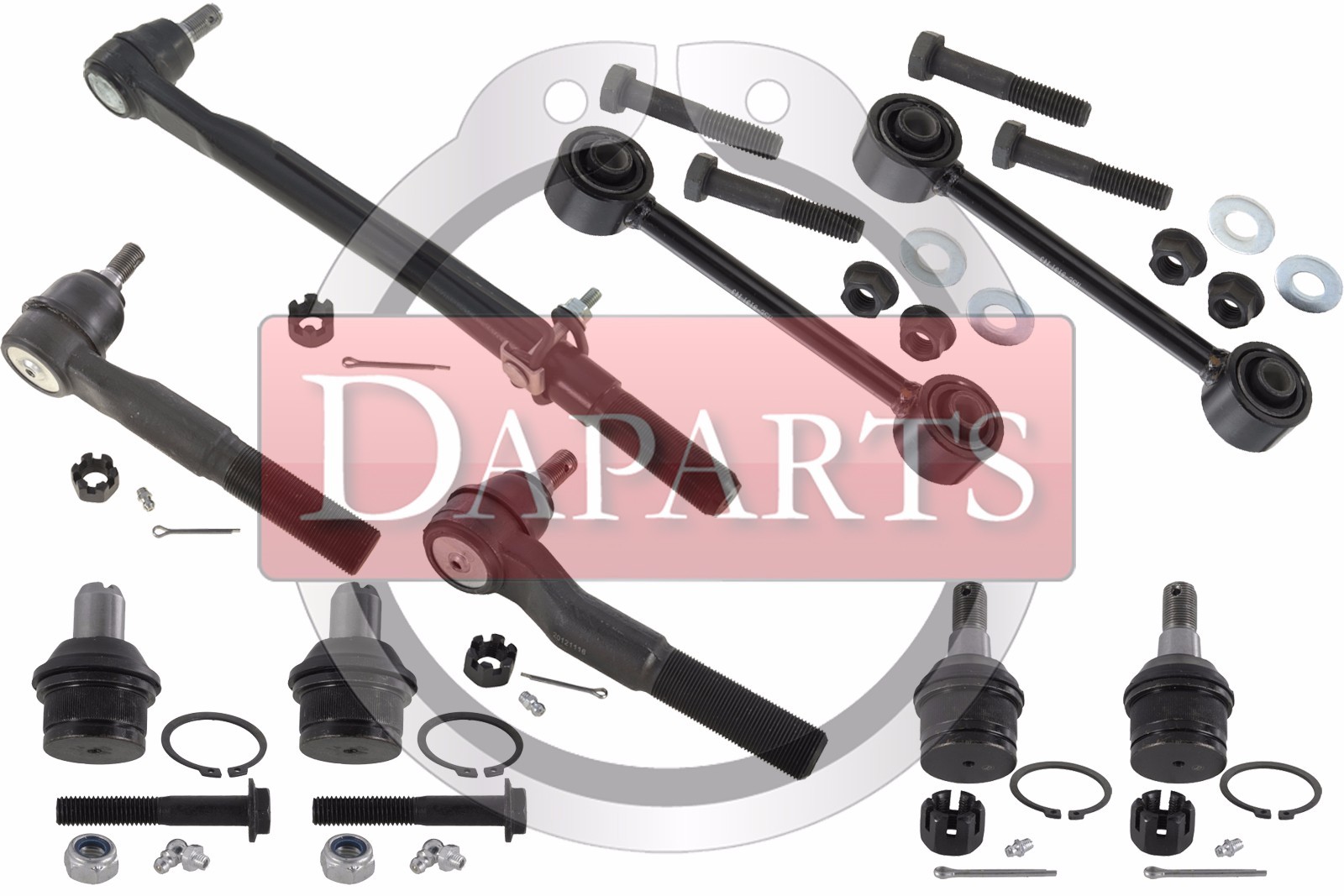 | | | | |
| --- | --- | --- | --- |
| MAKE | MODEL | DRIVE WHEEL | YEARS |
| FORD | F-250 SUPER DUTY | RWD | 2008 - 2010 |
| FORD | F-350 SUPER DUTY | RWD | 2008 - 2010 |
THIS SET INCLUDES
| | | |
| --- | --- | --- |
| PART NUMBER | QTY | DESCRIPTION |
| 2600-290697 | 1 | FRONT LEFT INNER TIE ROD END |
| 2600-34931 | 1 | FRONT RIGHT OUTER TIE ROD END |
| 2600-290698 | 1 | FRONT LEFT OUTER TIE ROD END |
| 2700-95584 | 2 | FRONT LEFT RIGHT LOWER BALL JOINT |
| 2700-95081 | 2 | FRONT LEFT RIGHT UPPER BALL JOINT |
| 2700-95073 | 2 | FRONT LEFT RIGHT STABILIZER BAR LINK 6.85" |
FAST SHIPPING

BUY IT NOW

IF YOU ARE NOT SATISFIED WE WILL GIVE YOUR MONEY BACK!!!
We Work parts from many suppliers, some parts have grease fittings while others are factory sealed. Both types of parts are equally dependable. Due to the fact we have a high volume of sales, we cannot guarantee which type of parts you will receive when you purchase. if the parts is available with grease zerk will be sent, if NOT is available with grease will be sent as is. However once payment has been made please send us an email regarding this preference and we will make a note on your Ebay account regarding about Grease Fittings. We will notify if the grease Fittings is available

.




The parts may vary in color but the color doesn't affect the application or quality of the product
ABOUT US
Daparts, Auto Parts: We are leaders in Sell Automotive Parts with over 15 years of experience. We carry a full line of products for Suspension and Steering Parts, Center link, Track bar, Control Arms, Bushings, Stabilizer, Sway Bar, Ball Joints, Inner Outer Tie rods, Rack Ends, Pitman Idler Arm, Toe Compensator, Coil spring, Lifts, Shock Absorber, Strut Mount, Adjustment Sleeves, Engine Mounts, Timing kits, Oil Pump, Water Pumps, Transmission Components, Filter Kits, Ignition Wires, Brake Pads, Calipers And Accesories for Japanese and American cars, all makes and models: Acura, Audi, Bmw, Buick, Cadillac, Chevrolet, Chrysler, Dodge, Ford, Gmc, Honda, Hyundai, Infiniti, Jeep, Kia, Lexus, Lincoln, Mazda, Mitsubishi, Nissan, Ram, Scion, Subaru, Suzuki, Toyota, Volkswagen from 1960 to the year 2015.
SHIPPING
We can ship next day (over night ) in U.S territory. Please, email us to inquire about prices and availability.
We will ship to APO/FPO,Guam please inquire before buying.
For international shipping quotes, please contact us by email or by phone.
International Shipments:
some items can be shipped internationally.
Buyers: Import duties, taxes, and charges (typically collected upon delivery or pickup) are the buyer's responsibility and are not included in the item price or shipping charges.
EXCHANGE POLICY

All parts must be in their original packaging are not installed or used, if the customer buys the wrong parts or decide not to stay with the parts, the customer is responsible for the return of the items.

• The changes have no additional cost. The difference would be charged only if the parts were more expensive to change. The parts that were used or damaged by the customer will not be changed.
• All parts must be installed by a certified mechanic, if the parts were shipped wrong or defective, we will send a RMA with label.
• All sales are final shipping and handling is non refundable for any circumstances.
• No items will be accepted for exchange or refund, after 30 days of your purchase date . Some items may be have a 20% reestocking fee.


WARRANTY

Factory: All of our aftermarket parts have factory warranty for 3 months after the date of purchase. The customer must return the defective or damaged parts for warranty support. If the customer has installed parts, you will have a deposit for the parts. and we will charge the shipping and the cost of parts, When damaged or defective parts arrive to our warehouse for a refund will be made for the value of the parts. shipping cost will not be refunded. The customer pays for shipping charges. There will be no refunds after 30 days of original purchase.



Daparts Store:

All our replacement parts are warranted for 12 months after the date of purchase. The guarantee covers 50% of the original purchase value. and is valid only once a year. The customer pays for shipping charges. No refunds after 30 days from the date of purchase. All guarantees must be authorized by DAPARTS STORE.


CONTACT US

If you need to get in contact with us, feel free to call.



Telephone 1:

305 477 05 87


Telephone 2:

305 477 0254


International:

001 + 305 477 05 87
DAP 2016 393