"Used, normal wear and tear, not New, view pictures for more detail or contact us please."

Brand:Toyota Placement on Vehicle:Front Manufacturer Part Number:Toyota Hilux Turbo Diesel 1KZTE 1KZ Engine Warranty:No Interchange Part Number:2LTE 2L Country/Region of Manufacture:Japan Other Part Number:Toyota Hilux Engine JDM 1KZ Turbo 1KZTE 1KZ Engine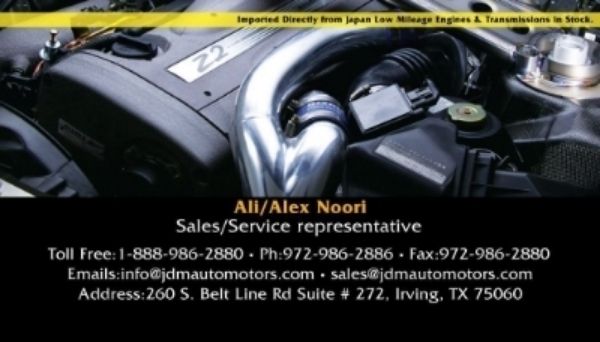 For Shipping Quote To Lower 48 States And AK, HI, PR Or Out Of Country Please Contact Us Toll Free : 1-888-986-2880 /Above Mentioned Emails ***
Local Pick Up Are Welcome !!!
ALN JDM Auto Motors is one the largest JDM Low Mileage Engines & Transmissions Importer!!!
We have a large inventory of JDM SOHC, DOHC, VTEC, NON VTEC, i-VTEC, SUPERCHARGED, TURBO CHARGED, KLZE, ROTORY, ETC. in Stock at the competitive low prices!
THIS AUCTION IS FOR A USED TOYOTA HILUX 3.0L TURBO DIESEL STRAIGHT 4 ENGINE, ALL WHEEL DRIVE ( AWD ) AUTOMATIC TRANSMISSION, WIRING HARNESS AND ECU
JDM 1KZTE / 1KZ-TE
WE HAVE A LARGE QUANTITY OF LOW MILEAGE JDM ACURA/ HONDA, NISSAN / INFINITI, TOYOTA / LEXUS, MAZDA, MITSUBISHI ENGINES AND TRANSMISSIONS IN STOCK AT VERY LOW COMPETITIVE PRICES AVAILABLE
MILEAGE IS BETWEEN 49-65K
THIS ENGINE SWAP WE HAVE IN STOCK WAS REMOVED FROM A RUNNING TOYOTA HILUX VEHICLE IN JAPAN AND IMPORTED TO US DIRECTLY!!!
TURBO DIESEL ENGINES ARE ( SOLD AS IS ) BUT WE CRANK IT MANUALLY TO MAKE SURE IT IS NOT SEIZED OR LOCKED
100% CUSTOMER SATISFACTION GUARANTEED !!!
PLEASE CHECK THE CODE ON YOUR STOCK ENGINE FOR PROPER FITMENT BEFORE BIDDING ON THIS ITEM, ALSO BE ADVISED THAT THESE ARE JDM IMPORTED ENGINES AND AND DOES NOT HAVE THE CRANK SENSOR OR EGR, YOU MIGHT HAVE TO USE IT FROM YOUR USDM OR US MODEL FOR PROPER USE / FITMENT" IF THERE ARE ANY DIFFERENCES. IF YOU ARE USING THIS ENGINE IN ANY OTHER VEHICLE THAN TOYOTA HILUX PLEASE DO YOUR RESEARCH...
" PLEASE DO YOUR RESEARCH PRIOR TO PURCHASING, WE WILL NOT BE RESPONSIBLE IF IT IS NOT COMPATIBLE OR DOES NOT FIT IN YOUR VEHICLE / CAR "
*** FREE SHIPPING APPLIES ONLY TO LOWER 48 STATES, EXCEPT AK, HI, PR, VI. ***
*** SHIPPING TO AK, HI, PR & VI PLEASE CONTACT US OR EMAIL YOUR INFO FOR ACCURATE RATE / SHIPPING QUOTE ***
PAY PAL
***ALL MAJOR CREDIT CARDS ACCEPTED***
DISCOVER
VISA
WE ALSO WELCOME AND ACCEPT,
BANK WIRE TRANSFER / TT
CASHIER / CERTIFIED CHECK
THANK YOU!
WHAT YOU SEE IS WHAT YOU GET !!!
***ACTUAL PICTURES SHOWN***
" YOU WILL RECEIVE THIS ENGINE, AUTOMATIC AWD TRANSMISSION WITH EXTERNAL ACCESSORIES AS SHOWN "
ALN JDM Auto Motors offers 30 days start up warranty on any non performance engines, transmissions and brand new Ignition Distributors.
Any Performance engines such as Vtec/ i-Vtec, Turbocharged, Supercharged, Mazda Klze (Excluding Rotory & Diesel Engines)comes with 14 days start up warranty.
All Mazda Rotory such as 13B Turbo II,13B Twin Turbo, 20B 3 Rotors, 13B-RE are (SOLD AS IS). We make sure they are not Ceased up or Locked before selling it.
All Accessories and other body parts such as Steering Wheels, Clusters, Floor Mats, Seats, Rims, Ecu, Maf Air Flow Sensors, Nose cuts Etc. are also (SOLD AS IS)
Warranty does not cover any External Parts or Accessories on the Engines and Transmissions such as Distributor, Distributors' cap / cover, Intake Manifold, Exhaust Manifold, Oil Pan, Solenoids, Wiring Harness, Plugs, Sensors, Belts, Etc. Which in most cases needs to be changed / swappped over from your stock Engine or Transmission any way.
"Also in most cases you have to use these JDM engines as Long Block Only because they are out of Right Hand Drive Cars in Japan".
ALN JDM Auto Motors, Will not be responsible for any improper installation on our products, it must be installed by ASE
Certified Mechanic.
Any costs associated with repairs or replacements, including labors, installations or any other related costs, shipping charges would not be covered under warranty. We ask our respected customers to contact us with any problems or concerns about our products within
14 days from the date of purchase on the original invoice.
If the Product has been altered in any way, improperly installed, or not used for its' intended purpose,warranty will be voided.

In the unlikely situation of our products being defective / bad you need to contact us first with a letter / document from your Certified Mechanic as a proof that way we give you a RMA number(Return Merchandise Authorization) then you could ship it back to us,
other wise the shipment is going to be refused here at our establishment at customers' own expense.

Exchange is only offered if our product is bad, again we would require a written document from your ASE Certified Mechanic proofing it. For any other reason if a customer refuse or return our products there will be a 25% restocking fees plus both ways shipping.

Shipping & Handling

ALN JDM Auto Motors offers its' Customers with the Lowest Shipping Charges possible both Domestic & International!!!
We use several different Freight Companies to get the best and lowest price on shipping.


Dear Customers,
In order to provide you with an accurate shipping rate please contact us with your complete address where it is shipping to by
calling at: 972-986-2886 / 469-500-0301
or
Email us at:
info jdmautomotors com
alnjdmautomotors gmail com


Domestic & Canadian shipments Estimated Time of Delivery is between 2-10 business days by Freights.
International shipments are by Ocean Freight to the nearest Ocean Port of Discharge and Estimated Time of Delivery is between
4-8 weeks.
Attention Customers:
We at ALN JDM Auto Motors do our best to ship your orders by packaging and putting it on the skids on big shipment as safe as possible free of any damage leaving our warehouse, but since we don't do the shipping and handling part ourselves there fore we ask our Respected Customers to please check everything when receiving it by freight company and make sure there is no sign of damage, if you see anything please make a note of it on the Bill Of Lading before signing to receive it from Freight Company's drivers.
That way it makes it easier to do a claim with Freight Company for any damages.
Thank you!
We appreciate your business!!!

Complete Engines for Sale
Fri, 20 Dec 2013 00:00:00 -0800
The 2014 Overfinch Range Rover (pictured) revealed The world is full of customisers who will take your Range Rover and make it more individual, but there is one such company that has the credibility of a history of making Range Rovers more appealing and, on the whole, doing it in a more subtle way than many of the newcomers – Overfinch. The 2014 Overfinch Range Rover has been revealed as 'the world's most luxurious SUV' (according to Overfinch) with a huge range of options to make Overfinch's Range Rover as individual as your tastes – and bank account – will allow. Overfinch has added their traditional three cooling apertures in the front bumper – complete with lacquered carbon fibre treatment – and the new back bumper, side skirts and roof spoiler are all made from carbon fibre too, perfectly in tune with the new Range Rover's lighter ethos, and there's a set of cast tailpipes by Overfinch at the back.
Tue, 13 Aug 2013 00:00:00 -0700
Toyota Toyota has confirmed the Hybrid-R concept is based on an existing production model – but it won't be a souped-up version of the GT86 sports car as we initially suspected. Instead a new picture reveals something far more radical: the Hybrid-R is a 400hp petrol-electric Yaris. Yes, Yaris.
Wed, 06 Feb 2013 00:00:00 -0800
Polish up those white loafers and pick up a ticket to Florida, 'cause the 2013 Miami International Boat Show is nearly here. With its aquatic focus, the marine expo is a welcome break from the long list of annual motor shows -- but that doesn't mean automakers won't play any possible angle to ensure they have a presence at the event. That's why Mercedes-Benz has once again teamed up with go-fast boat maker Cigarette to bring an AMG-inspired vessel to the show.