"New old stock. May not include original package"

Brand:Does not apply Manufacturer Part Number:Does not apply UPC:Does Not Apply

Valve cover & Manifold gaskets for Chevy Vega Monza 4 cyl 140 1971-1977

Free Domestic Shipping!

It's alway nice to have spares.

__________________________________________________________________________________________________

These gaskets fits the following:


Chevrolet VEGA 140 engine 2300cc 1971-1977

contains 2 valve cover gaskets and one intake gasket.




---

Check out our Ebay store link for similar replacement parts.
During normal business hours you can reach us direct at 888-399-PART (7278) for inquiries into our large inventory of parts for vintage cars and trucks. We are a full-time oldtime parts store.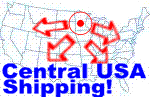 \
This item is shipped free using our super saver economy delivery service (2 to 11 business days)
or choose or expedited service (2 to 4 business days) for only $2.49 more!
International shipments can be combined in one box, saving you money, please email for the combined rate.

We Ship with USPS through Priority Mail, and First Class Mail and domestic orders may also go parcel post or UPS Ground. We will email a proof of delivery or tracking number once we ship

.

All International shipments must carry the proper value; we cannot evade your local taxes.

You will receive an email within 1 business day of the auction close containing payment options and total amount owed. If not received within 1 business day after auction closes, please Email or call. We send out a reminder for payment every 7 days.

serviced by auctionspro

Sales tax must be collected in Minnesota (6.85%).

We want you to be satisfied. We will do whatever it takes to make things right. Please contact us if you have a problem.

For Returns you must contact us prior to 45 days from date of sale. We may deduct the actual outgoing shipping charge from any refund as this may be a non-refundable part of your purchase

Make sure to contact us before returning an item to receive an RMA number, otherwise our shipper will not accept the package.

Jacksons Auto Parts & MW Inc.

6220 Grand Ave

Duluth, MN 55807

M-F 8:30am to 5:00pm

------------------------------------

(218) 624-5791

(888) 399-7278

(Please be specific and include the item # EE21156
number in your email, as we get over 100 Emails a day!)
at checkout choose expedited service (2 to 4 business days) for only $2.49 more!

Powered by SixBit's eCommerce Solution
Full Set Gaskets for Sale
Tue, 23 Mar 2010 00:00:00 -0700
Former Bertone and Pininfarina designer, Jason Castriota, has opened his own design consultancy based in New York and Turin. CDN recently caught up with Castriota - who is currently in New York - and discovered he's already working on a series of projects, despite having not yet officially launched the company. Castriota told us that it had always been his "dream to have my own consultancy in New York", yet what's clearly pleasing him most is the volume of work he's already accrued, without officially launching the firm.
Mon, 04 Jan 2010 00:00:00 -0800
Spyker Cars NV will rebuild Saab around the 9-3, 9-5 and 9-4X models if it buys the Swedish brand from General Motors Co., Spyker CEO Victor Muller says. Plans for a Saab 9-1 entry-level car would be put on hold. Muller said Saab would maintain its headquarters, engineering and production in Trollhattan, Sweden, under Spyker's ownership.
Sun, 04 Jan 2009 00:00:00 -0800
As car makers get more desperate to make sales, they are coming up with more and more to tempt the wary. Free financing, extended warranties and servicing and, in a couple of extreme examples, 2 for 1 offers. But Hyundai has come up with another offer to tempt the reluctant.