Bully Dog Heavy Duty Gauge Tuner; Fits Caterpillar, Cummins, Detroit, Paccar (se on 2040-parts.com
US $2,799.99
Location:
Westport, Massachusetts, United States
Condition:New Brand:BULLY DOG TECHNOLOGIES Interchange Part Number:BUL46500 Manufacturer Part Number:46500
Description:
Only the industry's leading tuning manufacturer could bring you a product this revolutionary. Combining the best-in-class features of the Heavy Duty WatchDog and Bully Dog's independently SAE tested tuning, the Heavy Duty Gauge Tuner (HDGT) is the premium performance product for drivers and fleet owners. If you are serious about getting peak performance out of your truck while saving money on fuel and repairs, the HDGT is for you.

The Tuner:
No other product can compete with the superior tuning options of the HDGT. Owners can choose between the Economy tune, the Economy + Power tune or opt for custom tuning.

Economy Tune:
Tuning for Mileage Gains Subjected to Bully Dog's rigorous on-road beta testing and then confirmed by independent SAE testing, the "Economy" tune consistently helps drivers achieve mileage gains of 6-12% or more.

Economy + Power Tuning:
Tuning for Mileage Gains and Additional Power. The Economy + Power Tune safely increases the horsepower and torque of your truck along with proven economy tuning. Users can expect horsepower and torque gains of 18% allowing your truck to perform better while under load, maintaining speed and gaining up to 1 ½ to 2 gears in the hills.

Custom Tuning:
For drivers who want a little bit more, Bully Dog's professionally trained staff offers complimentary custom tuning.

The WatchDog:
The HDGT includes Bully Dog's state-of-the-art WatchDog technology which automatically monitors the safety of your engine. Simply set the safety parameters and the WatchDog will alert you if something is wrong that could potentially damage your engine or transmission.

The Driving Coach:
The Driving Coach helps you achieve your mileage goal by giving you real-time visual and optional audible feedback. Driving Coach Reports can be generated to track your trucks performance.

The Mini Mechanic:
Waiting for a mechanic to determine why your check engine light is a waste of both time and money. Now you can do it yourself.

The Speed Limiter:
Drivers going in and out of Canada no longer have to waste time having their speed limiter modified and paying costly change fees or fines. The HDGT allow you to switch the speed limiters yourself saving you time and money every trip.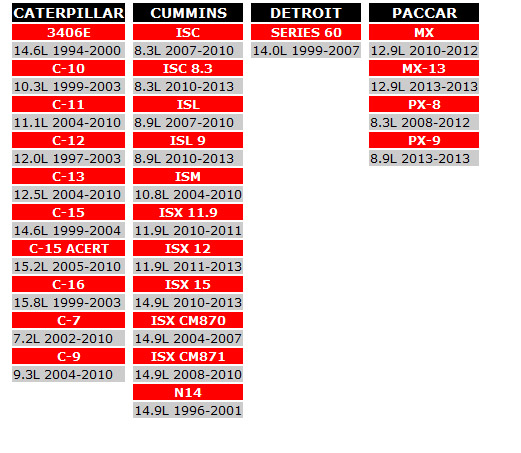 Shipping within 48 Continental States:
Shipping will be by UPS, FedEx or USPS
All orders will be shipped signature required
Shipping to Alaska, Hawaii & Puerto Rico:
There will be an additional charge on all shipments to Alaska, Hawaii & Puerto Rico. You can call or email for freight quote.
Shipping will be by UPS, Fedex or USPS
All orders will be shipped signature required
International Shipping:
We ship worldwide
We do our best to send international shipments via USPS to save on brokerage and fees. Some larger packages cannot get sent this way and will be sent UPS or FedEx.
We also have a warehouse in Canada which we can supply a quote that includes all brokerage and fees if the ite, is in stock there.
All orders will be shipped signature required
Shipping Time:
Most of our orders are shipped the same day they are placed and get to our customers within 1-3 business days. We ship from 6 warehouses within the United States (Kentucky, Texas, Idaho, California, Washington & Colorado) There may be a slight occasion where it may take longer. If an order needs to be drop shipped or is back ordered, ship time can take much longer. If this occurs, we will notify you immediately.
We Ship via UPS, Fedex and USPS
Payment Details:
We accept Paypal, Visa, Master Card and Discover. If you are paying by credit card please contact us at 508-636-7362.
Warranties:
JD Auto & Truck does not manufacture any of the products they carry and therefore does not offer any warranty on them. All product warranties, if any, are through the manufacturer. We do handle any warranty issues and can be contacted for them.
Return Policy:
Return shipping paid by Buyer
There will be a restocking fee of 20% accessed on all returns
Please contact us to Request a Return Authorization Number by e-mail or call 1-508-636-7362.
Any package received without a Return Authorization Number will be refused
All Returns must be received within 30 days
All Returns must be in new, unused and uninstalled condition and be in the original box and/or packaging
Freight charges are non-refundable
Customer is responsible for shipping costs on all returns
Any shipments that have been refused and returned back to us will have an automatic 20% restocking fee.
If the packaging and/or seal have been broken on any electronic product they will be non-returnable
All orders that had free outgoing shipping, the original shipping cost will be deducted from your refund amount.
Return Instructions:
Check that the parts are complete and in their original unmarked manufacturer part boxes. Put the part boxes in a shipping box - returns sent in just the manufacturer's packaging may not be refundable if the original box is damaged in shipping.
Include the RMA# on the outside of the shipping box with the parts. (If we don't know the RMA#, we will not know who the part came from or why it's coming back, we can't provide a refund!)
If possible, ship the package using the ground service of a trackable carrier (such as UPS, US Mail with Delivery Confirmation or FedEx).
After you've shipped the package, please let us know the tracking numb er so we can alert the warehouse staff to expect it. Please send the number in an email or call us at 1-508-636-7362.
Performance Chips for Sale
Thu, 24 Sep 2009
The new Bentley Mulsanne - new pictures and video The 2010 Bentley Mulsanne was finally rolled out at Pebble Beach last month. But we didn't get much detail on the oily bits. That was saved for the Mulsanne launch at Frankfurt last week.
Tue, 18 Aug 2009
General Motors Co. reached a deal Tuesday to sell its money-losing Swedish subsidiary Saab to Koenigsegg Group AB. The companies signed a stock purchase agreement that would give the tiny Swedish supercar maker 100 percent of Saab's shares, GM Europe said in a statement.
Thu, 16 Jul 2009
Audi traces its roots to the dawn of the auto industry, and today, the iconic company known by four intertwined rings celebrates its 100th anniversary. From humble beginnings to its lofty status as an international powerhouse, Audi has been at the forefront of technological development and crafting luxury. Along the way, it's gone by different names--including Auto Union AG--survived two world wars and forged entry into crucial new markets such as the United States.