Cadet Stf Aircraft Plans Cruise120mph 175 Max. Retract Gear 2 Pl. Sheets98"x36" on 2040-parts.com
US $179.00
Location:
Prescott Valley, Arizona, United States
"The plans are in unused condition BUT WITH A FEW TEARS ON THE EDGES."

Warranty:No Compatible Model:Cadet Compatible Make:Culver, Country/Region of Manufacture:United States

This auction is for 24 Blue Print sheets for the Aero-systems (La France) CADET STF, steel and fabric version. The prints vary in size: from 36"X 98" to 15 ft. X 36" to 36 X 58" because they are FULL SIZE and not a size reduction. The plans were revised over a period of yrs, from 6/29/1990 to 10/5/1995 so the sheet numbers are not in sequence. A list of the sheets by number and description is below.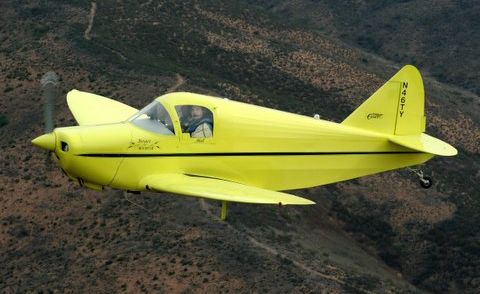 The Culver Cadet was one of the best performing light planes ever built. The production 2-place low wing Cadet was powered by a 75hp Continental engine and cruised at 120mph, with a top speed of 175 MPH. After much design and analysis, Neal La France offered plans for a homebuilt version of the Cadet. The Cadet STF features a steel tube, fabric covered fuselage instead of the production wood fuselage. A considerable weight savings and double the strength was obtained with the new design. Prototype is powered by a 100 hp Continental engine.

Specifications:

Kit Price w/o Engine: ~$15,000
Plans Price: ~$300
Number of Seats: 2
Building Materials: T,W,F,S
Building Time: ~2500 HRS
Standard Engine: CONTINENTAL 85/100 HP
Horsepower: 85-100
Wing Span: 27 Ft.
Wing Area: 120 Sq. Ft.
Empty Weight: 850 Lbs.
Gross Weight: 1350 Lbs.
Takeoff Distance: 800 Ft.
Landing Distance: 850 Ft.
Cruise Speed: 120 MPH
Top Speed: 175 MPH
Fuel Capacity: 25 Gal.
Range: 500 Miles


Plans for Sale
Tue, 01 Mar 2011
Skoda Concept Vision D - Skoda's design future Skoda threatened us with a concept at Geneva which would signpost their future design direction. They also told us we'd get to see a new logo that would be more contemporary. And they've delivered.
Wed, 07 Nov 2007
By Liz Turner First Official Pictures 07 November 2007 12:01 And about time too… Yes, this is the one we're been waiting for, but they had to make it a 2008 car to celebrate the 40th anniversary of Bullitt and the best car chase of all time. So pull on your turtlenecks; Ford will reveal the new Mustang Bullitt at the forthcoming LA Motor Show, and will sell only 7700 at a reasonable $31,075, from January. You can have it in the original Highland green (unique to this model), or black.
Mon, 07 Jul 2014
Italian car designs of the 1950s, 60s and 70s are a fascination and inspiration to many – an era where some of the most skilled designers, craftsmen and engineers collaborated to reach what many believe a zenith. But while we may know everything there is about the cars of this period, the men who created them remain enigmatic largely due to their collective modesty. Daniel Tomičić and Gianluca Migliarotti are hoping to change this however, by creating a documentary film that tracks down the key players from the time.