Cadet Stf Aircraft Plans Cruise120mph 175 Max. Retract Gear 2 Pl. Sheets98"x36" on 2040-parts.com
US $179.00
Location:
Prescott Valley, Arizona, United States
"The plans are in unused condition BUT WITH A FEW TEARS ON THE EDGES."

Warranty:No Compatible Model:Cadet Compatible Make:Culver, Country/Region of Manufacture:United States

This auction is for 24 Blue Print sheets for the Aero-systems (La France) CADET STF, steel and fabric version. The prints vary in size: from 36"X 98" to 15 ft. X 36" to 36 X 58" because they are FULL SIZE and not a size reduction. The plans were revised over a period of yrs, from 6/29/1990 to 10/5/1995 so the sheet numbers are not in sequence. A list of the sheets by number and description is below.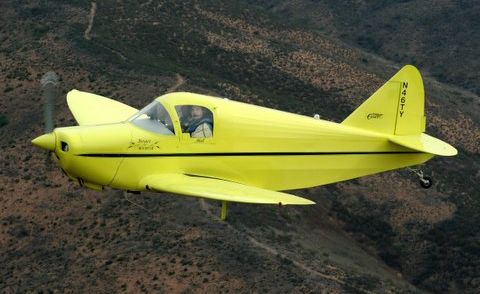 The Culver Cadet was one of the best performing light planes ever built. The production 2-place low wing Cadet was powered by a 75hp Continental engine and cruised at 120mph, with a top speed of 175 MPH. After much design and analysis, Neal La France offered plans for a homebuilt version of the Cadet. The Cadet STF features a steel tube, fabric covered fuselage instead of the production wood fuselage. A considerable weight savings and double the strength was obtained with the new design. Prototype is powered by a 100 hp Continental engine.

Specifications:

Kit Price w/o Engine: ~$15,000
Plans Price: ~$300
Number of Seats: 2
Building Materials: T,W,F,S
Building Time: ~2500 HRS
Standard Engine: CONTINENTAL 85/100 HP
Horsepower: 85-100
Wing Span: 27 Ft.
Wing Area: 120 Sq. Ft.
Empty Weight: 850 Lbs.
Gross Weight: 1350 Lbs.
Takeoff Distance: 800 Ft.
Landing Distance: 850 Ft.
Cruise Speed: 120 MPH
Top Speed: 175 MPH
Fuel Capacity: 25 Gal.
Range: 500 Miles


Plans for Sale
Wed, 07 May 2014
How can Subaru prove its latest WRX STI is more competent that its predecessor? Would beating its own record round the infamous Isle of Man TT course do it? We reckon so.
Thu, 08 Jan 2009
Ford Motor Co. and Microsoft Corp. are adding navigation and information features to their Sync system in an effort to stay ahead of rivals' telematics offerings.
Tue, 26 Nov 2013
Jaguar production studio director Wayne Burgess discusses his design credos and offers advice to aspiring car designers in a video from our friends at Jalopnik. He describes his design process as "creating order from chaos", channeling a burst of eclectic ideas down into a simple, pure form. "Design is an iterative process where it's all about throwing it out there, getting a load pinned up to a board and then looking to see what is working best.