Longacre # 72609 Computerscales® Accuset Ii™ Professional Model on 2040-parts.com
US $1,445.00
Location:
Las Vegas, Nevada, United States
Condition:New Manufacturer Part Number:72609 Country of Manufacture:United States Part Brand:Longacre
LONGACRE # 72609
Computerscales® AccuSet II™ Professional Model
Getting your chassis setup correctly and accurately will make a huge difference in handling and give you more wins and better finishes.
CNC Machined Billet Aluminum Pads - 14 lb. capacity per pad - Set of 4 - 3.0" x 5.5"
Read wheel weights in 1/100 lb., 1/10 oz. or grams - Easy to switch
Large 4 line display shows all 4 wheels and ALL partial % - Rear, Left, Cross, Total, etc. (Weight and % total)
Easy to use - just set them up and turn them on
1/10 of 1% accuracy
Face is slanted for easier viewing
Cable lengths can be adjusted to suit your needs. The extra cable is stored inside the electronic box. Adjusts in seconds.
Comes with silver carrying case for pads and electronics
Specifications
Control Box
Model:
AccuSet II™
Memory:
1 slot
Batteries:
6 AA
Cables:
Black
Case:
Silver
Pads
Size:
3.0" x 5.5" x 1 3/4"
Capacity:
14 lb per pad
Finish:
CNC Machined
Load cells per pad:
1



Professional Model

This Professional model shows all 4 wheel weights on separated displays for easiest viewing. Also shows ALL partial % and weights on a separate 4 line display that can be easily customized to your preferences. An easy-to-use Memory stores 8 setups with instant recall. The Premium Yellow cables come with billet AN connectors with gold-plated contacts and locking rings.
Fully Machined CNC Pads
Longacre scale pads have elaborate computer designed internal strengthening ribs for maximum rigidity. These new pads are CNC machined to a dead flat finish - within just .005"
Simple to Use
This is the easiest system to use. Just set it up and turn it on. Everything is displayed at the same time in a logical, simple-to-understand format. No complicated instructions to remember, no overcrowded display with too much information crammed into too small a space.
Low Power Consumption
This system runs on 6 AA batteries (included). The advanced electronics used here consume so little power that this system should run for 1 year or more in normal use before replacement. No recharger is needed. An accurate Low Battery indicator gives you plenty of warning when replacements are due.
Latest Electronic Stabilized Readings
Numbers don't jump around - accurate weights guaranteed!
The newest scale systems are amazingly sensitive.
To assure that you get the most accurate, reliable readings possible we have developed special electronic stabilization circuitry for this model.It uses the latest 24-bit ADC converter (most other scales use 14-bit) and special proprietary software that averages many readings to filter out most small short-duration spikes. The result is a rock steady reading virtually no jitter. The weights you get are accurate, consistant and repeatable, giving you the most accurate setups possible to keep you running up front.
Premium Yellow cables, AN Billet connectors w. gold-plated contacts and lock rings, and luggage grade Silver carrying case
4 individual wheel weight displays
Large 4 line display for all partial % and weights easily customized to your preferences
Instant recall Memory for 8 complete setups
Four CNC Machined 15" low profile scale pads with handles and recessed connectors - 1500 lbs per pad capacity
Advanced low power consumption electronics run on 6 AA batteries (included)
2-year limited warranty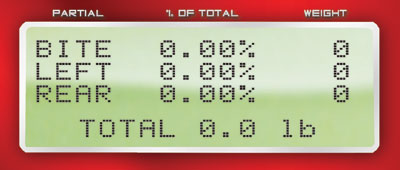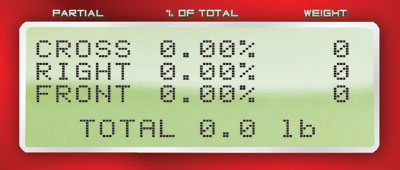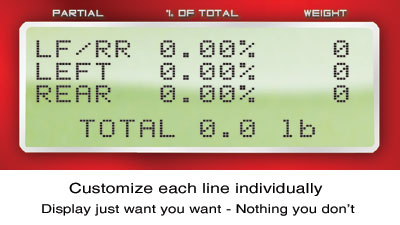 NIST Certification
Load cells and scale systems from Longacre Racing Products are tested and calibrated to the standards traceable to the National Institute of Standards and Technology (NIST) and are part of a comprehensive measurement assurance program for ensuring continued accuracy and measurement traceability.
Testing is accredited by the National Institute of Standards and Technology (NIST) through the National Voluntary Laboratory Accreditation Program (NVLAP) for specific scope of accreditation under lab code 200446-0. This laboratory meets the requirements of ISO/IEC 17025 and ANSI/NCSL Z540-1.
Accuracy is equal to .1%.
METRIC OPTION:The DXI control box is user switchable to metric readings. Please choose the metric display option if you require metric and we'll make sure it gets switched for you. Or you can easily do it yourself.
Longacre ComputerScales are not designed for, certified for or recommended for use with any manned aircraft.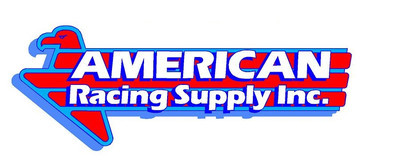 SERVING LAS VEGAS SINCE 2000
702-382-8520
The image is a representation for product reference only
Actual Item May Vary In Appearance
Electronics for Sale
Thu, 08 Sep 2011
2012 Volvo XC90 Facelift - very minor tweaks The Volvo XC90 has been with us for the best part of a decade without any major changes, thanks mainly to Ford pulling the plug on a new XC90 a few years ago. But the outlook is much brighter since the Chinese took the reins at Volvo and we're certain there's a new XC90 ready to surface in 2012. But for now Volvo has decided to give the current XC90 a bit of a tweak to take it through to the launch of an all new model.
Mon, 27 Aug 2012
Spyker and China's Youngman are launching joint ventures to build the Spyker D8 SUV and develop the Saab Phoenix platform. Did you really think Victor Muller would come out of Saab with nothing? Especially after he told is in April he was looking for investors to push the Spyker D8 SSUV in to production? Muller's Spyker and China's Youngman – putative seller and buyer of Saab – are teaming up with a pair of joint ventures that will see Spyker's long awaited Super SUV – the once D12 SUV and now D8 – coming to market, and Saab's Phoenix Platform exploited.
Thu, 06 Sep 2012
The second complimentary Webinar from Autodesk, entitled 'Virtual Design Workflow in Automotive', has taken place, led by Industry Specialist for Technical Surfacing/Styling Uwe Rossbacher. The design process in the automotive industry focused on virtual models/techniques along with physical 3D models. Each OEM tries to balance both processes in order to get the optimum in efficiency and styling quality.