Polaris Sportsman 550 850 1000 Xp Bumper Stickers Decals Front Rear 2009 - 2014 on 2040-parts.com
US $17.00
Location:
Syracuse, New York, United States
Condition:New with tags
Pair of POLARIS decals for your Polaris Sportsman. These will fit the 550xp & 850xp models 2009-2014 .
Decals made to highlight the POLARIS lettering in a custom color of your choice. Decal shown in pictures are WHITE.. We have these in a variety of colors to choose from.
These are easy to install and detailed instructions are included.
We have these in many different colors (colors listed below). Message us with any questions. thank you.
Fits- 2009 - 2014 Sportsman 550 & 850
Feel free to e-mail with any questions. Thank you.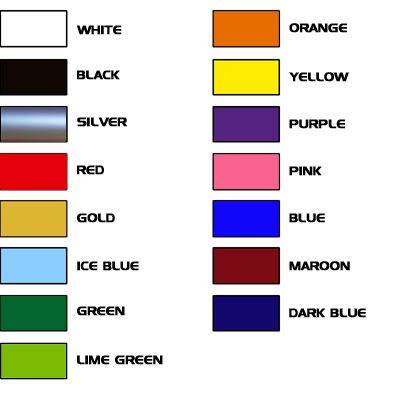 Other Merchandise for Sale
Mon, 17 Nov 2008
By Digby Fullam First Official Pictures 17 November 2008 14:15 Aston Martin's Vantage N24 has given way to this new GT4 – a race-spec Vantage aimed at pro racers and track day enthusiasts alike. The arrival of the GT4 leaves Aston in the unique position of being the only manufacturer producing cars in each GT class. The new car has been six months in development, with Aston hopeful that it will build on the success of the N24, winner of this year's Nurburgring 24 Hours.
Wed, 02 Jan 2013
Some Chevrolet dealers have stopped carrying the Volt after deciding that their sales didn't justify an additional $5,100 for tools to service the plug-in hybrid. Last month, General Motors notified Chevrolet dealers of the added cost for tools, among other requirements, to keep selling and servicing the Volt. The math didn't work for Allyn Barnard, owner of Jim Barnard Chevrolet in Churchville, N.Y., near Rochester.
Sat, 17 Mar 2012
Mercedes CLC to debut as Mercedes-Benz Concept Style Coupe? It looks like the new Mercedes CLC – a mini CLS based on the new A Class – will debut at a film and food festival in LA as the Concept Style Coupe. We know that a mini CLS based on the new Mercedes A Class is planned, and we know it's likely to be the Mercedes CLC (or any number of other potential monikers including CLA and BLS) and will probably even spawn a CLC Shooting Brake version too.