Rt & Lft Directional Afco 1.88/1.62 Alum Brake Calipers Brembo Race 041516-10 on 2040-parts.com
US $399.95
Location:
Crown Point, Indiana, United States
"SURPLUS INVENTORY FROM PROFESSIONAL RACE TEAM / ENGINE BUILDER / WAREHOUSE"

Brand:AFCO US BRAKE Surface Finish:ALUM Manufacturer Part Number:7241-1001 & 7241-1002 Warranty:No Placement on Vehicle:Rear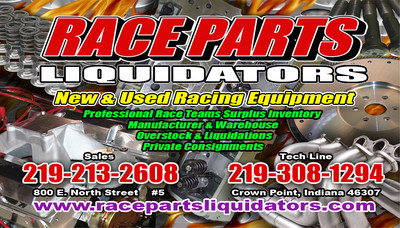 RACRDUDE1--------GONE CRAZY AUCTIONS
RACERS-------BUY HERE-------SAVE
SERVING RACERS SINCE "1989"
HOURS OF OPERATION
MONDAY----FRIDAY 9am to 5pm CENTRAL TIME
========================================================
**Note** We receive in items at all times & many not listed. Items from many Top Nascar Race Teams--Engines Shops--Closeouts & Surplus Inventory to offer at a much reduced price!!!
CHECK OUR EBAY STORE & -W-E-B-S-I-T-E- & AUCTION FOR MORE ITEMS.
RACE PARTS LIQUIDATORS
ITEM FOR SALE---------030315-28
NEW / USED--------------USED--1 RACE
RT & LEFT DIRECTIONAL AFCO US BRAKE CALIPERS
#7241-1001 & 7241-1002
Info
Design, innovation, and strength are combined to give the F88i Caliper series unique performance advantages. Structural integrity is greatly increased due to an exclusive internal interlock system that requires less brake pedal effort, yet increases braking control with lap after lap consistency.
The result: more consistent pedal feel and stopping performance with less pad taper. These calipers are machined from billet 6061-T6 aluminum and feature internally machined lightening pockets, which makes them one of the lightest calipers on the market.
The high performance caliper of choice for Rocket Chassis.
Replaces SL and XL type calipers. 3.50" mounting centers.
Racer Note: Racing brake calipers, if properly maintained, can generally be used for several racing seasons. Frequent replacement of the caliper pistons and seals will increase caliper life and performance.
Exclusive interlocking design significantly reduces caliper flex and distortion. The extra rigidity provides for more consistent stopping performance and less brake pad taper.
All F88i calipers are built with staggered piston diameters to eliminate excessive brake pad taper
Stainless steel abutment plates reflect heat and protect the caliper from pad gouging
Stainless steel heat shields reflect heat from the caliper helping to reduce fluid temperatures
Ultra-high temperature resistant square cut seals resist damage caused from heat and wear
Billet machined 6061-T6 aluminum construction provides maximum strength
Internally machined lightening pockets for maximum weight reduction without sacrificing rigidity. The F88i caliper is one of the lightest billet calipers on the market.
Stainless steel pistons help to reduce fluid temperatures and piston wear
Heat resistant and reflective finish help reduce caliper temperature
Specs
MFG. Part #:
7241-1001RH
7241-1002LH
Piston Diameter:
1.88/1.62
NEW COST AROUND $274.99 EH
THIS IS IN GOOD CONDITION
This is Surplus Inventory from a Professional Race Team, Engine Shop, Warehouse, or Buy out.
ITEMS ARE LISTED IN BEST OF KNOWLEDGE MANNER
**Errors with photography, typographical content, or pricing are subject to correction and/or change without notice
Be sure to add me to your favorites list!
Check out my other items!
****some adds may use a file photo of item selling we sell alot of.
Pay me securely with any major credit card through PayPal!
========================================================
HOURS OF OPERATION
MONDAY----FRIDAY 9am to 5pm CENTRAL TIME
SEND QUESTIONS THRU EBAY ASK SELLER QUESTION LINK--QUESTIONS WILL BE ANSWERED AS SOON AS POSSIBLE
========================================================
WE SELL ITEMS FOR MANY NASCAR SPRINT--NATIONWIDE--CAMPING WORLD TEAMS--ALONG WITH DIRT & ASPHALT SHORT TRACK TEAMS--DRAG RACE TEAMS & MANY ENGINE SHOPS
CHECK OUR SITE DAILY AS WE ADD DIFFERENT ITEMS AT ALL TIMES
25% OFF SHIPPING OF 2nd ITEM PURCHASED or MORE WHEN ITEMS SHIPPED COMBINED TOGETHER
(PAYMENT POLICY APPLIES-SEE BELOW)
INTERNATIONAL RATES POSTED IN ADD
25% COMBINED SHIPPING DISCOUNT INCLUDED TO INTERNATIONAL SALES
EXEMPT ITEMS FROM SHIPPING DISCOUNT ARE:
(CYLINDER HEADS---BLOCKS---CRANKSHAFTS---SEATS---HEADERS---RADIATORS---REAREND GEARS---HEAVIER ITEMS---THESE WILL BE NOTED IN ADD SHIPPING) SHIPPING FEE SET IN ADD ON THESE ITEMS
SEE DETAILS BELOW
CHECK OUR STORE FOR MORE DEALS
OUR AUCTION POLICY IS SIMPLE-WE OFFER NEW & USED ITEMS TO AUCTION-ITEMS FROM LIQUIDATIONS-SELLOUTS-CLOSEOUTS--ALL ITEMS SOLD AS-IS-WHERE IS-WE WILL DO OUR BEST TO LIST ITEMS IN A BEST OF MANNER FASHION WITH THE INFO WE HAVE ON THE ITEM.
ITEM SELLS TO HIGHEST BIDDER !!!!!
**********SEE OUR PURCHASE AND SHIPPING POLICY BELOW**********
========================================================
25% SHIPPING DISCOUNT TERMS & CONDITIONS
RECEIVE A 25% SHIPPING DISCOUNT ON MULTI-ITEMS PURCHASED,PAID & COMBINED SHIPPED TOGETHER AT THE SAME TIME. (PAYMENT POLICY IS WITHIN 5 DAYS OF AUCTION END TIME) HERE IS HOW OUR POLICY WORKS--PURCHASE MULTI-ITEMS AT THE SAME TIME OF AUCTION AND YOU WILL RECEIVE A 25% SHIPPING DISCOUNT ON THE nd ITEM OR MORE TOTAL OF ALL ITEMS PURCHASED SHIPPING & HANDLING CHARGES--THIS IS OBTAINED BY ADDING UP ALL SHIPPING CHARGES OF ITEMS PURCHASED 2nd ITEM AND SO ON (ITEM WITH THE HIGHEST SHIPPING CHARGE WILL BE THE 1st ITEM SHIPPING CHARGED & 2nd ITEM & SO ON WILL RECEIVE 25% SHIPPING DISCOUNT) =TOTAL SHIPPING (MINUS)-25% OF THAT TOTAL= NEW SHIPPING FEE + 1st ITEM SHIPPING TO BE BILLED-PLUS THE COST OF ITEMS PURCHASED.---SHIPPING DISCOUNT WILL BE APPLIED AUTOMATICALLY BY EBAY CHECKOUT (BUYER CAN DO THIS BY CLICKING CHECKOUT ON INVOICE / PAYMENT PAGE AND RECEIVE DISCOUNT WITHOUT US SENDING SEPARATE INVOICE--- WE WILL SEND A REMINDER INVOICE TO YOU WITH SHIPPING DISCOUNT APPLIED AFTER AUCTION END IF APPLICATABLE.
OUR AUCTION ITEMS HAVE A LOW START PRICE AND SELL TO HI BIDDER WITH NO RESERVE IN MOST CASES (UNLESS NOTED ON AUCTION LISTING)-OUR SHIPPING & HANDLING POLICY IS DESIGNED INTO A FLAT RATE SHIPPING CHARGE PER ITEM!!!!
IN ORDER FOR US TO CONTINUE TO BRING THESE NO RESERVE AUCTIONS TO YOU -WE HAVE SET A FLAT RATE SHIPPING & HANDLING FEE PER ITEM--THIS FEE FOR SHIPPING & HANDLING COVERS-SHIPPING CHARGES-PACKAGING MATERIALS (BOXES-TAPE-PACKING SUPPLIES-LABELS) & ADMINISTRATION CHARGES
WE STRIVE TO BRING ITEMS TO YOU AT A MUCH REDUCED PRICE @ AUCTION AND WE SELL MOST ITEMS @ NO RESERVE-SO SOME CHARGES MUST BE INCLUDED IN OUR HANDLING CHARGE-(LISTED ABOVE)
OUR NO RESERVE AUCTION ITEMS SELL TO HI BIDDER FOR WHAT EVER THEY ARE BID TO--REGARDLESS OF PRICE-EVEN WHEN THE ITEM SELLS FOR MUCH LESS THAN ITS TRUE COST--OUR LOSE IS YOUR GAIN
CHECK OUR STORE FOR MORE DEALS
Be sure to add me to your favorites list!
Check out my other items!
****SHIPPING FEES****
*****USA SALES*****
ITEM HAS A SET SHIPPING AND PACKAGE HANDLING FEE COMBINED--FOR A FLAT RATE SHIPPING CHARGE PER ITEM.
ITEMS MAY BE PICKED UP AT OUR LOCATION WITH PRIOR APPROVAL AND SET PICKUP TIME--PICKED UP ITEMS WILL BE CHARGED 30% OF TOTAL ORDER SHIPPING AS HANDLING FEE.
*****INTERNATIONAL SALES*****
WILL NEED TO E-MAIL FOR A SHIPPING QUOTE ON A ITEM FOR PURCHASE,(UNLESS NOTED ON ADD) THIS WILL THEN BE ADDED TO SALE PRICE FOR A FINIAL TOTAL--INTERNATIONAL BUYERS RESPONSIBLE FOR ALL TAXES-DUTIES-SHIPPING-BROKERAGE -IMPORT-CUSTOMS-PACKAGING & TRANSPORTATION FEES-OR ANY OTHER FEES TO RECEIVE THIS ORDER TO YOUR COUNTRY.
*****PAYMENT*****
DUE TO THE RISING NUMBER OF NON-PAYING BIDDERS, ALL SALES WILL NEED TO BE PAID FOR WITHIN 5 DAYS OF SALE END TIME!!! ANY NON-PAYERS WILL BE FORWARDED TO E-BAY AND A NON-PAYER STRIKE APPLIED TO THAT ACCOUNT, ALONG WITH FEEDBACK RELATING THE SAME, AND ITEM WILL BE RELISTED. WE ACCEPT PAYPAL AND PAYMENT MUST CLEAR BEFORE ITEM WILL BE SHIPPED
*****FEEDBACK*****
Please leave positive feedback and 5 stars for us.
Selling Quality Items @ CRAZY Discount Prices

We will do the same for you!!
Thanks & Happy Bidding
****SALES PLEASE READ*****
ALL ITEMS ARE SOLD AS-IS -WHERE IS-AS SHOWN, ITEMS CARRY NO GUARANTEE OR WARRANTY WHAT SO EVER ALL SALES ARE FINIAL--ALL ITEMS ARE LISTED IN A BEST OF KNOWLEDGE MANNER AND ARE REPRESENTED THE SAME--BUYER ASSUMES ANY & ALL LIABILITY FOR ANY ITEMS PURCHASED
*****NO REFUNDS*****
*****ALL SALES ARE FINAL*****
*****RETURN POLICY*****
ONLY ITEMS ACCEPTABLE FOR RETURN ARE ITEMS THAT HAVE BEEN DAMAGED IN SHIPPING--DAMAGED ITEMS MUST HAVE DAMAGE ITEM FORM FILLED OUT BY SHIPPING COMPANY DELIVERING ITEM (BUYER MUST GET THIS DONE) AT TIME OF DELIVERY. FORM MUST BE RETURNED WITH ITEM FOR FOLLOW UP WITH DELIVERY COMPANY--THIS MUST BE DONE & ITEM RETURNED WITHIN 14 DAYS OF DELIVERY
ANY ITEM PURCHASED AND DELIVERED TO BUYER AND BUYER THEN DOES NOT WANT ITEM OR NOT AS WHAT BUYER WANTED--CAN BE RETURNED WITH A 30% RESTOCKING FEE SUBTRACTED FROM REFUND--SHIPPING FEES ARE NON-REFUNDABLE--AND BUYER RESPONSIBLE FOR RETURN SHIPPING FEES.AND MUST BE RETURNED WITHIN 14 DAYS OF RECEIVED-WITH PRIOR APPROVAL FROM US.
*****PLEASE FEEL FREE TO ASK ANY QUESTIONS ON ANY ITEMS*****
*****PLEASE CHECK OUT OUR OTHERS ITEMS FOR SALE.*****
*****ITEM REQUEST TAKEN*****
*****GOOD LUCK*****


Powered by eBay Turbo Lister
The free listing tool. List your items fast and easy and manage your active items.


Powered by eBay Turbo Lister
The free listing tool. List your items fast and easy and manage your active items.
Performance Brake Calipers for Sale
Wed, 23 Nov 2011
Land Rover Range-e wins SMMT Award Just like every other car maker in the world, Jaguar Land Rover are flirting with and developing hybrid powerplants to keep the government-targeted economy and CO2 levels in check, even though neither Jaguar or Land Rover are close to actually launching a hybrid. In fact, Jaguar recently said that 4WD was the next ambition for their cars – not hybrids – and we won't see a hybrid from Land Rover until the next wave of Land Rover models start to hit the road in 2013. And even then, any hybrid powerplant is likely to be well after initial launch.
Mon, 12 Jan 2009
By Tim Pollard Motor Shows 12 January 2009 14:29 GM came out fighting with new product in tune with the times at the Detroit auto show 2009. The Cadillac ConverJ is an electric-powered limousine not seen until press day, harnessing the same plug-in hybrid tech as the Chevy Volt. GM product overlord and everyone's favourite sound-bite merchant Bob Lutz said the Volt's drivetrain had been renamed the Voltec system and it was this lithium-ion battery set-up that underpinned the ConverJ concept car.
Mon, 14 Apr 2014
If the 1978 Ford Mustang King Cobra II isn't quite your thing, why not give the 1984 Ford Mustang SVO a try? In the Jan. 3, 1983, issue of Autoweek, we previewed a different take on the pony car -- one that promised "visual subtlety with unsubtle performance." Built on the Fox platform, the Mustang SVO (for "Special Vehicle Operations") wasn't supposed to be a flashy package for the wannabe racer -- it was designed from the ground up to be a balanced road car, "a state-of-the-art performance vehicle for the absolutely no-compromises performance buyer." And when we say "ground up," we mean it.